Once upon a time, before the world-wide web and zombi-phones, a deodorised man in pastel-coloured clothes called David drove 60 miles through northern Irish counties Tyrone, Antrim and Down just to suck my over-sensitive cock - which he did unusually well, as I noted in my diary. I remember nothing of this, nor of most of my sexual encounters with men, which (and who) quickly merged with my memory-fog - in which initial good feelings are blotted out by later disappointment. I hope he thought that the 120 mile drive was worth it. I never heard from him again.
Another once upon a time, once only, this time in London, a handsome hairy Turk pleaded with me to insert my small hand and half my scrawny arm up his arse. But before either of these men there was Jim.
I met Jim in a Public Convenience in Newtownards, part of the greater Belfast area, the early 1970s. He peeked at me through a hole in a partition (known in the trade as a Glory-hole) and drove me home. I had hitch-hiked from my little wind-blown house by the fjord near the small village of Greyabbey the 15 kms to the town. At that time, not identifying myself as 'gay' (or even being aware of the word) I cruised (unaware also of the whorish, secondary meaning of that word) for lifts home from Newtownards where I shoplifted food - and eventually went to prison for doing so. I had hoped that by playing a record of Bruckner's 9th symphony to him, he might leave, never to return. But he loved the music, and he did return. He worked nights to avoid his wife and probably his son. So he started coming to my house a couple of times a week, where he would sleep, and eat what I cooked, before going off to work.
He came more often. Eventually he stayed. At first, I didn't mind. I grew to like him, though we were never lovers. Living in rural Ireland (notorious North-Eastern) I knew nothing at all about same-sex relationships, homosexual subcultures, nor about who did what to whom. Being an enthusiastic shoplifter of Penguins and more expensive books, I had read Peter Wildeblood's 'historic' (early sixties) Against the Law polemic plea (published by Penguin) for the decriminalisation of sexual acts in private between men. I had heard of (and enjoyed some of the works of) Oscar Wilde, but his sexual behaviour had not interested me. I had performed (rather than enjoyed) mutual masturbation at school from the age of nine or ten. I had had 'crushes' on other boys - and would continue to have 'crushes' on men (and three women) until middle age. I never had a 'crush' on Jim.
Homosexuality for me then was unattractive and unsavoury men loitering in smelly urinals; or it was secondhand: Roger Casement picking up handsome youths in Ireland, the Congo, London and Peru; or Baron Charlus in Proust's Sodom & Gomorrah section of A la recherche du temps perdu, only part of which I read; or André Gide on the beach at Sousse - where I had walked over ten years earlier, and had been romantically groped by a night-fisherman wrapped in a burnoose.
Jim was the man who came to visit, left his wife (who had a good job) and his son, and became part of my life without my having the nous to say No. I did not acquire the nous to say No until I was in my seventies. He liked to crawl into my bed on a Saturday morning. I hated this, even though he sometimes masturbated me without protest on my part. Then he would go and visit his mother for the rest of the weekend, and I would 'breathe a sigh of relief'.
He soon made himself almost indispensable. He had a car. He had much more money from his job as an armature-winder at Harland & Wolff's shipyard 20 miles away in Belfast than I got from the dole as 'an overqualified unemployable'. He loved taking me on (and paying for) trips to look for megaliths and ancient churches. I became a Kept Man.
Even when I decided to go and live with the 'Pygmies' of the southern Central African Republic and northern People's Republic of the Congo (Brazzaville), he wanted to give up his job (and pension rights) to come with me. I couldn't refuse. I was a Kept Man. The Pygmy-plan did not work out because I couldn't stand the heat, just flopped uncomfortably. The cold nights in the rain forest were a problem, too. I have very poor tolerance of heat and cold, and I never had much physical stamina.
My mother, then recently retired, with whom I also went on trips all over Ireland to find megaliths and more recent (but also ancient) things of stone (pre-Christian statues, 7th century grave-slabs, 12th century churches, and so on), did not like Jim, but kept her dislike to herself - which of course was to his advantage. All three of us went on some Irish trips, and eventually to Spain, after my interest in stones spread to 'marginal' sculpture on Romanesque churches - and remains there, but not so acutely in the eighth decade of my life. It wasn't until I finally 'got rid of' Jim that my mother admitted to her dislike of him.
Here is how it happened. My researches into peculiar carvings on churches and castles in Ireland and Britain, confusingly mis-named Sheela-na-gigs and subjects of much fanciful pseudo-Celtic speculation, had led me to discover that there were similar female exhibitionist figures on churches in Normandy dating to the 11th and 12th centuries. My doughty mother and I went in her car on a ferry from Ireland to Le Havre, and, having photographed a few carvings in Normandy went south to Poitiers. From there, having visited the Centre des études médiévales in Poitiers, I obtained a list of churches in Western France which were thought to have such figures on them.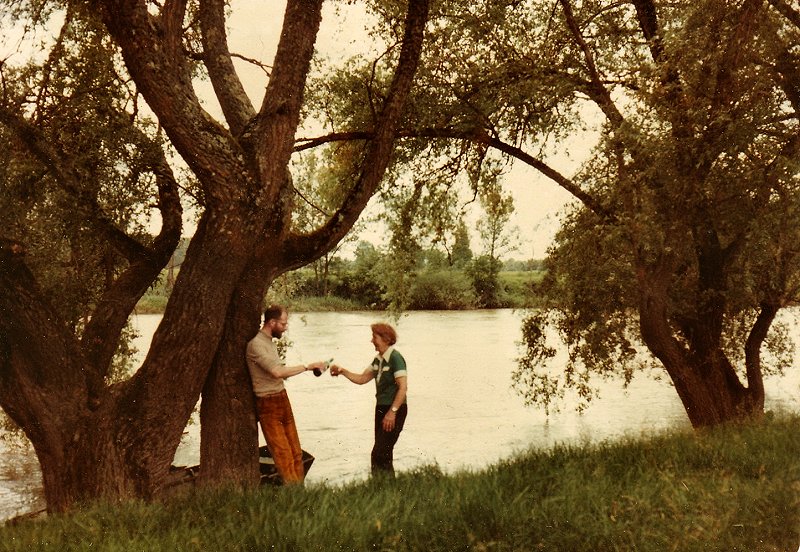 And so we did. The trip was a great success, and I found not only female exhibitionists on churches, but males, too. I was building up photographic evidence that these figures originated in France as entirely Christian illustrations of the sins of lewdness and concupiscence, and migrated in the 12th century to Britain and Ireland, where they took on something of a life of their own, being imitated (often very crudely) on churches and on several Irish castles. Over the years I have gathered more evidence, and my badly-edited hardback (then paperback) book on the subject became the basis of a website on the subject: Satan in the Groin.
Next year we went to France again - this time hiring a car, and visiting the University again before starting out on another trip which would take us farther south and east. I had decided that I would go through photographic files on my own for a few days, and that my mother would meet me in Poitiers a week after I left Northern Ireland. I can't remember what means she took to get to Poitiers, but I went to Paris on the way, deciding to stay there a few days in a hotel. I was the first new 'guest' to arrive in the Hôtel du Caire after the new owner took over from the one who had received my mother, aunt and me in 1953 - a time when there were limits to the amount which ordinary people could take out of the UK. (The rich had no such difficulty, of course.)
Walking down the whore-lined rue Saint-Denis the second day I was there, I saw a curious-looking, craggy man (somewhat resembling WH Auden) reading an interesting-looking book (Bateson's Steps to an Ecology of Mind) at a pavement-café table. I asked if I could join him for a coffee, and within ten minutes he had invited me to stay for free (and alone) in his pied-à-terre round the corner. That same afternoon I decamped from the hotel and moved to the small flat whose only daylight came via a very grey courtyard - like many flats in that grey city which (of course) used to call itself the City of Light. Thus I had found a pad in Paris, and its owner came to visit me in Ireland every February for many years - to Jim's chagrin - while I went to Paris once or twice a year by the cheapest means possible. These were the days of the channel-crossing hovercraft, which offered cheap fares by bus or train between the capitals of England and France. In Paris I shoplifted expensive books on Romanesque sculpture and mediæval art. Through carelessness I was once caught, and was made to pay for the books, plus 5 or 10% (I can't remember which) as a kind of fine. I had already been to gaol in Belfast for shoplifting food, so I was full of admiration for the rational French approach to "wastage". I was actually in a queue of apprehended shoplifters, who would not be criminalised (as in the vengeful Anglosphere) but made to pay extra.
The year after that we went to northern Spain, accompanied by Jim, a couple of years after Franco's death. Spain was a revelation to me: I actually fell in love with landscape for the first time. I felt as if I had arrived 'home'. Later again I was literally enchanted, spellbound almost in a Castanedan way, by the landscapes of north-eastern Portugal around Bragança.
I had acquired Francophilia at an early age, partly because of my mother's romantic perception of 'The Hexagon', and partly because I had read all her swashbuckling historical romances of Dumas (The Three plus one Musketeers) in my early teens. I was also impressed by Balzac and Zola. We greatly enjoyed our excursions around Western France, staying in little family hotels with interesting (or little) plumbing, sloping floors, wobbly stairs and tables d'hôtes. These were in contrast to the kind of purpose-built tourist-hotels my mother stayed in when she went elsewhere - usually on her own - to Cyprus, Tunisia, Czechoslovakia, Hungary, Yugoslavia, and so on.
On one trip to Paris I went to a Salvador Dalí exhibition at the Beaubourg's Centre Pompidou, a fine architectural experiment ruined inside by rampant division of great spaces, and needed to piss. The toilet facilities there are probably still lamentable. I went to the very small ground-floor set of urinals, where a number of men were obvious willy-wavers. One of these was a handsome bearded man whom I took to immediately. I winked at him and left. He joined me. I took him to "my Paris pad" about 5 minutes' walk away, and we "bonded". This was the first man to attract me physically - and it was largely because of his beard. And also because he was a very forthcoming Mexican-American from San Antonio, Texas, who was on a short tour of Europe with the Merce Cunningham modern dance company. The "troupe" was in Paris for a few days before going on to Barcelona...or somewhere.
I have since learned that many Important Financial Transactions occur in 'rest-rooms' - of 5-star hotels or lap-dancing clubs.
The man I met had an attractive face, body and personality - and he (amazingly) found me attractive, too. I had never thought of that before. I had been made aware of my skeletal 'weediness' at my rugby-and-my-cock-down-your-throat third-rate "public" (i.e. fee-paying) school in Belfast, which my mother (whom I then thought was my lone adoptive parent) innocently thought would be of benefit to me. He was the first man whom I enjoyed kissing - because of the moustache and beard. We kissed a lot. We cooked great meals together. We laughed a lot. We got on so well that I invited him to Northern Ireland at the end of the company's tour, and (welfare-scrounger that I was) contributed towards the extra expenses he would incur. (Welfare scroungers are not allowed to leave the country without 'advising' the social security bureaucracy - but, what the hell! I am still a welfare scrounger at the age of 74, and I spend over half the year now in France, slipping between the generous cracks in bureaucracy overlooked by the European Union.)
Gregorio a few years younger than I am as I write this.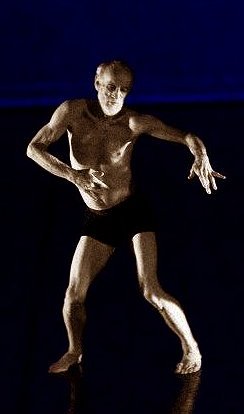 And so, a couple of weeks later, Gregorio arrived for the first time on the chemically-Emerald and sadly Snot-green Isle, to be met at the airport by Jim and me. Jim hated him on sight. He sulked. He stormed off to his mother's. He came back. He sulked. He flew into one of his violent rages and announced that he would be leaving me for good, breaking a few household things on his way out to his car. These included a ten-gallon carboy of wine, which spilled all over the kitchen floor. At this point Gregorio and I also decided to leave rather than risk corporeal and emotional violence from a very sturdy Jim. We went to London, and stayed in the Bayswater flat of my friend, the anthropologist (later film-maker and adviser to the government of Canada) Hugh Brody, who had lectured in Moral Philosophy at the Queen's University of Belfast. Up the road a bit at Notting Hill Gate I went to my first gay bar, and was amazed to find myself being ogled by handsome, bearded men. My 'weediness' was considered attractive, svelte and desirable, in a world where obsesity was fast gaining ground. Indeed, some years later I was happy to receive the worship of Italians who, on their knees before my snake-tattooed groin, fancied they were making love to Jesus or St. Francis of Assisi - in a roomy lavatory-stall in the splendid Santa Maria Novella station (oh those amazing marble floor-tiles!) in horrible Florence. Lechery and Luxury sound felicitously similar in English. In medieval times not even the rich could afford lollypops : there were only willypops.
Raised by a bevy of women (my "adoptive" mother, her mother and her sister) I have always been wary around males. I still am. I am also more at ease in the company of women, especially older women, than most men. I seem to be largely on the feminine wavelength, and enjoy women's 'butterfly' conversations much more than in the 'express train in an incredibly long tunnel' conversations of men.
Through finding the first man to attract me, I had got rid of Jim. From Gregorio I learned about Gay Liberation and gay bars whose existence I had not dreamed of. With Gregorio I savoured the ectasies of kissing and licking. He was the first man to tune into my very sensitive nipples, which my first girlfriend (Danish) had introduced me to twenty years earlier on the tiny Baltic island of Christiansø. For the years I was besotted with her I thought 'homosexuality' preposterous, bizarre. My subsequent visits to urinals were less in search of sex than in search of risky adventure. The one adventure I had was being taken home buy a guy who fucked me in my tight little arse, caused considerable pain, and then got rid of me. Luckily, he lived only a few hundred metres from a sweet girl with a gorgeous folksinging voice - whom I fancied in my puppyish way, and who gave me coffee, sympathy, and cotton-wool for my painful sphincter.
It was obviously beards which "turned me on" and tuned me in. I had already dropped out. I had worn a beard ever since I left school, but had never got round to associating the beard with erotic charge and scrotal frisson. I had met just one man with a beard whom I liked enormously, but he was married - and in any case our strong and immediate bonding was of the buddy kind. On my thirtieth birthday the kind and thoughtful Paddy had suggested, as a very sweet birthday-present, that we go to bed as an experiment. We did, and that was all we did, because we were both embarrassed and paralysed. Our friendship, though not unerotic, was neither homosexual nor phallocentric. Had we been kissy, it might have been homosensual, a category which is so regrettably ignored by the population at large.
After a few days in London, having bid Gregorio farewell on his journey back to San António, I had to return to rural county Down. Jim had not returned. He had slept in his car for a week, crashed it because of fatigue, stayed with his mother for a while - not, of course, his wife and son - and then found a cottage to rent rather nearer to Belfast and much nearer to his mother.
Since we both had realised that it was beards which made my cock go hard, he arrived some weeks later sporting a beautiful, thick black beard. Too late, of course. Had he had the wit to grow it at any time during the previous seven years, our relationship might have improved and advanced - though he would still not have told me of the advances in Gay Liberation which he read about in newspapers. I have never cared for newspapers or magazines, preferring books. My only connection to homosexuality in literature since reading Gide and Proust was through discovering Jean Genet, whose Miracle of the Rose entranced me and was very far from my own experience, even in prison - where I was thought to be a bit queer and, consequently, spent a lot of my short sentence in a 6-man cell all to myself. Such luxury!
I had now discovered the homosexual demi-monde which was not peopled by unattractive and furtive men in urinals. I found that there was even a gay-friendly bar in Belfast - part of the much-bombed Europa hotel. There I met another beautiful bearded man, who liked me enough to cycle forty miles to visit at weekends - until he got fed up with my anti-British attitude.
I started going to London, simply to drink at the imaginary fountain of hirsute masculinity. In Britain limited sexual relations between men were now legal, though still illegal in both parts of Ireland. From London I would go by the cheapest means (often involving unreliable hovercraft) to Paris (where they were never illegal, though you wouldn't think it, to judge from the skulkiness of many), and there I discovered yet more of the demi-monde, notably the Sauna Continental, an intriguing subterranean labyrinth close to the place de la Madeleine, which piped classical music through its sound-system, and had classical Greek themes - including the Minotaur - on its tiled walls. It had a lunch/snack-bar beside a pool, jacuzzis, steam-rooms, sauna-rooms, cubicles, and socialising areas with drinks tables and armchairs: the height of homo-chic. It was burned down at the height of the AIDS scare in France, but before that, it had the most amazing, completely dark orgy-rooms, which were, (so to speak) an eye-opener to a Northern Irish quasi-hermit who even yet has never been to a McDonald's or a Starbucks, nor owned a television-set, "smart"-phone nor microwave.
Always happy to try something new - from pleasuring a foot-fetishist to recycling magic mushrooms through piss - it came to pass that a handsome hairy Turk pleaded with me to insert my small hand and half my scrawny arm up his hairy arse - after cutting my fingernails. I had thoughts of Vlad the Impaler and was not happy. More broadly speaking, I don't think he was happy, but he believed that he needed this to be done to him. He believed that it relieved a pressure, that it was a wild call from the thicket of his consciousness. Only four years after awakening from a long, enclosed sensual slumber to embrace homosensuality, I found myself fist-fucking a Turk. The most scary part of this unpleasant procedure was the discovery that, by gently pressing on the outside of his belly with the fingers of one hand I could feel through skin, flesh and membrane the fingers of the other which was far up his colon. In his depressing London flat this handsome and sweet man was sniffing a bottle of butyl nitrite to relax and incite-excite him simultaneously. We were a pair of silent, beached Bacchantes performing a ritual involving lust, and less than ecstasy, perhaps bringing him closer to despair, and me closer to disgust. The poor guy got his pleasure or relief this way so rarely that he was full of gratitude when my little and nervous surgical-erotic procedure was over.
Was it a rite ? I was not a proper priest, if such is to be found, and the choirs in the thickets are not in harmony. The rites of Pan and Dionysus, Cybele and Artemis have been eradicated by mindless monotheisms. The Orphic experience is now unknown, hardly guessed-at...and I am long-since tired of making love with men I cannot admire and who have no sense of play, humour, fun - no ludic sensuality
But before these men there was Jim, a man who used to hang upside down by his feet from the sycamore-tree outside my damp cottage. I heard that he died some twenty years later of motor neurone disease.
Now I, an Irish national, live most of the time in rural southwest France, thanks to the wonderful concept of the European Union. This - my post-'gay' and multisensual, laid-back phase - is the latest of the (roughly) ten-year stages of my life, and represents a pre-senile quietude in an Occitanian environment which is almost paradisiacal. On my walls in both France and Ireland are portraits of men I liked: Ian, Sviatoslav, Mark, Peter, Pierre, Bruno, David, Carlo, Philip, Wolfgang, Andrea, Karl-Heinz, Claudio, William the Aosdana-acclaimed but vacuous painter-who-wanted-to own-a-Porsche, and, finally, Malcolm (who doesn't like owning anything).
I also painted a retrospective of Jim. And from old photos - Bonnard, Caillebotte, Toulouse-Lautrec and Genet.
[click here for more of my paintings]
Now I have non-ejaculatory orgasms from listening to Chopin's Nocturnes or a Brahms trio, from sniffing a musky wine (some have a distinct scrotal or perineal undertone), or from tasting an interesting dish suggested by myself, but made by my part-time companion, who, nearly as queer and 'undersexed' as I am, is neither 'live-in' nor lover.
My latest culinary invention is sautéed fennel with a few tomatoes - and that most English of ingredients, Mushy Peas!