EIGHT PLUS ONE POEMS
and Two Psalms
by
GENRIKH SAPGIR
(1928-99)
translated from the Russian
by Artyom Kotenko, St Petersburg
and Anthony Weir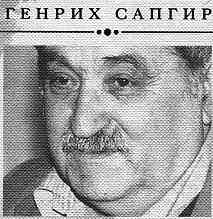 from "Tactile Instruments", 1989-99
published in New Literary Review, 2000

_______
FOREWORD TO WORDS (1989)

Flickering circle
disappearing in dark
dawns through

(kiss your breath)
(kiss your thought about kissing your breath)
(kiss your kiss)


High, high above:
the sky!
(unbreathing)
there, high above
(standing on tiptoe
breathe in the altitude)
- a bird!
(airily, almost insensibly -
breathe out like soaring through the sky)

CHRIST AND PETER

(sit somewhere near the water:
beside the sea, river, pond, pool, bath
or place a footbath in front of you)

(beat the water hard with your hand -
smack!)

(rhythmically beat the water as if with oars -
slip-slop,
slip-slop,
slip-slop,
slip-slop!)

(dig up the water with both palms
and fall over with a spangling splash)
Plvrash-shh!
drip! drip! drip!

Plvrash-shh!
drip! drip! drip!

(breathe over the water to smooth it out
like the wind - several times)
psh-sh-sh-sh!

(now pat the water twice)
flip-flop
flip-flop!

(shout)
- Lord!
(peacefully)
- Stand on the water, walk on it
and have no fear!

(Heavy slopping, as man walks
ankle-deep in liquid mud)
SLIP-SLOP
SLAP-FLIP
SLURP-FLOP!

(dive into the surf noisily
or fall into your footbath)
- Save me, Lord!

(listen to the sound of the sea,
of the river, of the bath,
of wet silence)





SPIRITS

(light breath) - someone's presence
(yet lighter) - here is another...

(short pant 3 times) - "Zdravstvyi" (Hello! Hi!)
(suck in the air 3 times) - "Here you are"

(happy breath out) - "I'm here, feeling fine"
(blessèd breath out) - "Me too - we are close"

(amused half-breath in) - "Who is it?"
(even shorter) - "A stranger!"

(contemptuous breath out) - "He's carnal"
(abrupt breath out) - Let's fly - we've been overheard"


DIE, SULAMITE !

(Touch the piece of meat, grasp it)

My love!
Your eyes - gazelle's eyes
Your breasts - hills of Judæa
Your legs - slim cypresses

(Kiss the piece of meat)

Your lips - heart
of unfurling rose

(Put your hand on the raw meat
and be still)

Your womb - deep
thirst-assuaging well.

(Abruptly grasp the kitchen knife
and stick it into meat)

Die, Sulamite !

EMERY AND FUR
'I hold the moment of wonder.'
- Aleksandr Pushkin


Put the piece of emery and the piece of fur in front of you.
When I with my unshaved cheek...
(touch the emery)
When you, with your eyelashes...
(touch the fur)
...You are in the Moscow Metro
Thinking of me
(touch the emery)
I'm walking the dismal street
Or riding the elevator up and down obsessively
(touch the fur)
Now, many years have passed
Since we saw each other - and you've forgotten
(touch the emery)
And I remembered only for a while
Then even your name erased itself
(touch the fur)
Today - at last - a total stranger
Kissed the air around you
Nestled up to you and touched your cheek
(touch the emery)
Your cheek turned moist
And you remembered everything,
Everything!
What eyelashes !
Do you remember ?
(touch the fur)




HARK!
The air is breathing
Someone is breathing behind the wall
Pigeons are breathing on the roof

Rooftops are breathing under the sun
Leaves are breathing under the sun
Thoughts are breathing

And here am I breathing
And there are the breathless dead

The ethereal wind is breathing

TRANSFIGURATION

(Such a deep in-breathing that expands you -
to breathe the whole world into you)
(Carefully breathe out the superfluities)
(Breathe in another atmosphere)
(Breathe out a world renewed)
(Now suck it in again extending
your arms like wings)

THE END OF THE WORLD

Breathe in - World/Light
Breathe out - the end of the World/Light
[in Russian the word Svet means both world and light ]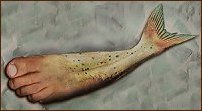 ...And a ninth poem
not from "Tactile Instruments"
adapted by Alexander Andreyev and Frederik Wolff

THE TRIAL
I talk to God
like a friend
but I only believe
in my legs.
They carry me
to the square
to the Last Judgement

"What happened
Who are they hanging?
Answer me!"

They are executing
Jews.

"Not all the doctors,
surely?"
(Laughter)
"Rabinovich ?"
Rabinovich!
"Abramovich ?"
Abramovich!
"And Gurevich ?"
Yes, Gurevich!
"And Petrov Ivan Petrovich ?"

Odd.
The fellow stares
ominously. I break out
in a cold sweat.
"You wouldn't by chance
belong to a sect?

Comrades,
An intellectual!

The war ended. Then
the carnage began.
It got so bad that
God my best friend
couldn't help anyone.
God has a rather big defect:
like Stalin, he hates intellect.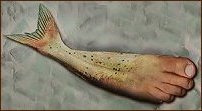 Psalm 148
1. Praise Godinheaven
All angeldemons
All evilspiritarchangels
All sunmolecules
All atomstars
2. He commanded
And it was created
Evilgood and goodevil
Tied in a knot
Forever live thy mercycruelty!
3. To praise - damn
To damn - praise
Praise Him from the Earth
And damn fearlessly
Champagnefall
And rainfull
And tigerbull
And lambsnake
And beggarprince
And blessedcursed
And Anglonigger
And Russiankraut
And youngandold
And stupidsmart
And every throat
And every navel
Praise GodtheAtheist!
4. And earhand
And eyefeet
And tailhorn -
Hallelujah!

Psalm 150
1. Praise the Lord on timpani
… (three loud bangs)
2. Praise Him in pissed companies
… (oaths and curses)
3. Praise Him in gatherings
… (phrases from the newspaper)
4. Inarticulate
… (proto-language, babybabbling)
5. Clap your hands
… (clap three times)
6. Praise Him like a dog
… (bark three times)
7. And like a wolf
… (howl three times)
8. Silently rejoicing
… (silence)
9. Let every breath be praise unto the Lord
… … … (shout, bawl, blare, clatter - absolute deliverance)
Hallelujah!
(12 times any way you like)