Before a patient signs a consent form for an operation,
s/he should ask for, and receive, a print-out of risks, common complications,
and what changes one should expect after an operation, before signing the purely bureaucratic consent form.
I have had two operations in two different countries in the past two years.
The first, in Northern Ireland, was a double-cataract operation,
one of the commonest procedures in the world.
It was an out-patient procedure: I was in and out of the hospital
within 2 hours.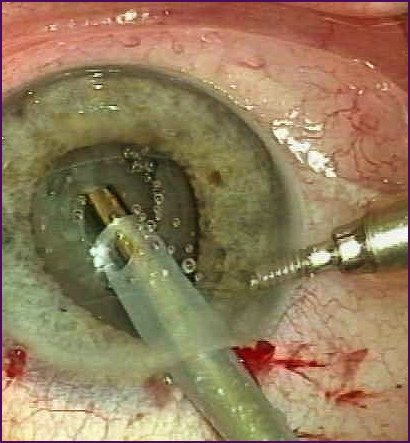 Despite being given a leaflet, I received scant information of what to expect after each of the procedures, which took place three months apart. I received a number of surprises,
and arrogant, unsympathetic "after-care" at an intimidating modern hospital.
Two years after my treatment, I was still suffering the consequences of diagnostic
and managerial ineptitude - at a different hospital 30 miles (48 kms) away...

The second operation was much more serious, but now almost routine in rich countries.
I fell off a chair on to a tiled floor while changing a light-bulb
and broke the neck of my femur while I was in France.
This necessitated a hip replacement operation - total (posterior) hip arthroplasty
and a week's hospitalisation.
The broken femur was sawed (I smelled the burning during the operation),
and the ball & neck replaced by a metal prosthesis,
which has to be hammered down into the femur
after the marrow is scraped out. I felt the hammering, too, in my morphine-haze..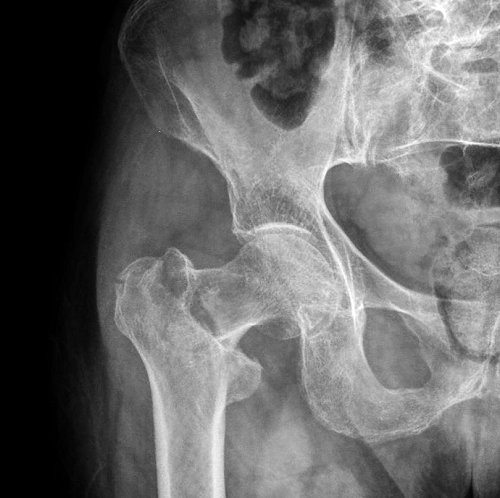 I had a charming surgeon who told me before the operation
that I "would be on my feet" in a couple of days, and walking within a week.
This was the sum and total of the information I received.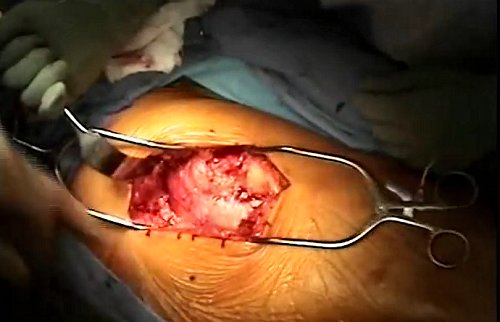 My scar is 20 centimetres long.
Nurses, when I questioned them, seemed to have received mixed messages,
both about what was going on and about how much they should tell patients.
I had to watch the youTube video to find out what had been done to me
(and since there was no wi-fi in the hospital, this was over a week later).
I received little dribs and drabs of information by accident from hospital staff,
includingthe gung-ho physiotherapist, and the cautious physiotherapist,
each of which devoted 20 minutes of their time to me.
Really, the only reliable source of information is via the Great Google in the Sky.
When I thought I was to be discharged, it transpired 5 minutes beforehand
that I was merely going to be transferred to a physiotherapy unit.
At this point I had had enough : no wi-fi, truly disgusting food
(over half of which went straight down the toilet),
occasional patronisation from callow young nurses.
So I insisted on going home, which caused quite literally a panic,
with the surgeon being summoned.
He begged me to remain one more night (in a different room
in a different part of the hospital)
so that he could prepare for my home-care.
I relented and endured another round
of 1950s-style hospital slops, not a green or salad vegetable in sight.
This transpired to be a list for a pharmacy which included an orthopædic bed !
This of course, I refused, since I was able easily to create a hoist in my upstairs bedroom with a rope from the boot/trunk of my car, and a big hook in the wall opposite the foot of the bed, so that I could haul myself up and slide myself off the end of the bed - in fact a better arrangement than the hospital hoist.
Also on the list were a walking-frame and two elbow-crutches.
I took only a single elbow-crutch,
since the bill already came to €400!
This included a handy (though expensive) raised toilet-seat,
which replaced one nasty shiny cheap-looking plastic one which I had intended to replace.
(Most manufactured things in France are two or three times the price of identical ones in neighbouring countries,
from car-tyres to lavatory-seats. The exceptions include fresh food, postal services, wine and most prescription pharmaceuticals.)
The day after I got home, a nurse arrived to instruct me on how to inject myself daily with the anti-thrombosis product which the surgeon had prescribed for 40 days rather than the usual 21. She also changed the dressing on my operation-scar.
I had progressed very well after the operation. Being a healthy vegetarian male weighing 60 kilos (135 pounds),
I needed a walking frame only for half a day in the hospital, and then progressed to a single elbow-crutch. I was able to walk upstairs as soon as I got home, though I left the concrete steps down to the cellar for several days before attempting them.
Nurses came four or five times during the following fortnight. They had to be paid for, so I dismissed them as soon as I felt able to. A few days later I made the 14-hour journey to Northern Ireland. This involved 2 cars (one of which I drove), 2 trains, an aeroplane and a bus. None of these presented much difficulty: that came with the now-ritual American-demanded "security" pantomime at the airport.
Naturally, having a titanium-vanadium top to my femur I made the bell sound in the yoke they make us pass under - very symbolic - especially as the number of Americans killed by terrorists since 2001 is less than 100, while the number of Americans killed by guns by other Americans within the USA is in the tens of thousands). I was asked to remove my laced shoes. I told the guard that I couldn't without sitting down because of my recent hip-operation. He became angry, called for reinforcements, and someone kicked my crutch away from me. I fell to the ground. I yelled. I made a scene in front of dozens of onlookers, I told them that they were goons and little Hitlers. They took down my passport details, and let me go after a full frisking during which I made to remove my trousers so they could explore my rectum. They quickly finished. I then went straight through the police passport check.
I got to my destination in Northern Ireland at 10 pm, having started the journey at 8 am.The journey and the fall impeded my progress for a while, but I soon recovered.
It was not until I went to see a physiotherapist (who complimented me on my mobility - as my surgeon had complimented me on my leanness - but admonished me for my impatience) that I learned that I would not be walking properly for five months - and that my right leg was over one centimetre shorter than my "good" one. It was from her that I also learned how best to get into a car - a tricky, dsngerousand painful procedure on which of course neither my surgeon nor the French nurses had advised me.
Very soon after this my hip started to swell and seem inflamed. But there was no infection. My general practitioner didn't even ask to see it. I put an ice-pack on it at night, to no avaul. I applied antiseptic cream and padding. On removing this, I discovered a hole in my scar. I had wondered why the sheet of my bed was damp. From this hole liquid had oozed.
I went to the emergency room of the local hospital before midday, and after "only" a couple of hours' wait I was told that I likely had a seroma. This complication, though not uncommon, was not explained. But via the Great Google in the Sky I learned what it is.
Another complication, not entirely confined to healthy males who live alone, is Post Operative Depression. This I also read about on the web after I started doubling my anti-depressant and mood stabiliser.
So you see why I think that patients should be offered a comprehensive list of what an operation involves (from simple self-injection and the requirement of a raised lavatory-seat to the not-uncommon complications that could arise and the prognosis for the patient involved, from healthy vegetarian male to obese, elderly, meat-eating female)