Poems by
Andi Garwood
from

BOOK DISEASE
and
FEARFUL SYMMETRY
published 1996

THERE IS A BISCUIT ON THE GRASS

Who said there are no battlefields here ?

We dump the thoughts uncooked in
flesh on flame.
Some frantic emperors have bled
or gone.

Here below the cloud of vision
any storm will do.

We are waiting, too.
LAY OF THE FLOWER-WARRIORS
Are poems ever read ?

We are the brotherhood
of petal tongues and bright beast eyes
picking berries from the bearded
ground, toes naked
and hairy in must
tending words
fermenting our dreams in the ocean
breathing deep in the
bushy sweat of the forest

We have been carried by fish
through the noose of the blizzard

The wounds of word-warriors
are washed after use.
A LA RECHERCHE DE PAUL VERLAINE

In speechless, scandalous carousals
round my love I find breasts whose
little fingertips are food like living
fruit, and my nipples turn to
consciousness.

Alone in my electric orchard
your creamy insights come to mind
And my love of death
fits like a lascivious genie
into a green bottle.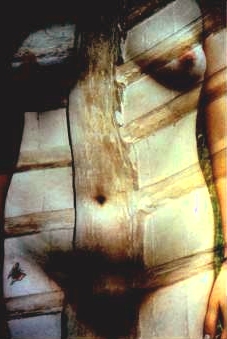 ENTRAILS AND INK-MADNESS

Timeless festival of lying, people
trying to write their names on magic
walls of prayer: their names are false.

We whisper along soulsucking corridors
crashing into one another

Death
To
All
Who
Read
And
Write

We finger forked tongues with burning
dark and gutless flesh
And sniff depressing lines of optimism
Something's bleeding…or gushing…
The whole world is a sigh
forced out by business and religion:
these shrunken hearts
drunk on meddling
beat everyone dry.
BLOODY TEETH ALONG LIFE'S DINNER

The grand old men of wasted hotels
ramshackle, ill- and over-fed
Violence, sir ?
Oh, yes please.
Very good, sir.
[Sweep everything under the bed.]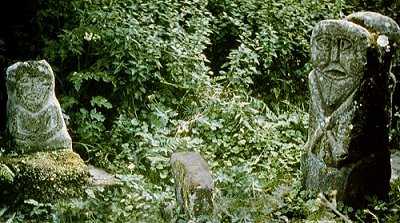 You cannot be smart and have a pure heart.
SOMEONE JUST DIED

I know many unemployed drunks.
All pick dust from their teeth
combing roses from their hair.
They meet on weekends
and squeeze cider-sweat into village ponds.
Between you and me, none
of them feels safe with a gun.

I know many employed shits.
All of them dance fully-clothed,
slipping from cracked mirrors and
shaking rats from their sleeves.
They meet on evenings and grit
slime-slicked teeth at each other.
Between you and me,
none of them looks right with a bottle.
TODAY I HAD A STOMACH UPSET

Lightning-ball of fire,
Time burning, sweaty sheets,
Rose-gardens washed in seagull-shit
Today I had a stomach upset
and was importuned about the noise
my hamster makes

I need a joint
I'm leaving

I have no light
Except the inner flame.
FORTUNE BREATH
OF AFTERNOON

Don't we shine ?
Constellations…

There were more of us before
Weird rescued spirits
drawn from a spiral star

Black and bloody jelly eye cream tongue
squeezing through the gap

a cry wakes me from the poor man's slumber

There are blind buffalo outside my window
Down there on the pavement
Two children run around laughing
with a large red see-saw
in their arms.

Children.
Don't they shine ?
Constellations….
SOFT SHOE SHUFFLE

Because the mortal coil
of Earth is ravelling

We reach deep into
each other's pockets
to buy the next round.

NOW
put a cork into your ear
and listen to the vineyard...