Nobody would have dreamed of calling my uncle "wicked".
He was a dedicated and caring General Practitioner. He made house-calls to his elderly patients, lit fires for them so they wouldn't freeze to death, made sure they had enough to eat... He was deeply in love with his wife. But, in retrospect, he was my (fortunately distant) Wicked Uncle, my unfortunate mother's brother, who left the Royal Navy in 1946 (as Surgeon-Lieutenant) to become the junior partner of a practice in Coventry. I was well into my fifties before I realised the extent of the damage wrought by his interference in my upbringing.
I was his sister's bastard. He probably didn't know who my father was any more than I do. I sucked my thumb for many years, thus pushing out my top front teeth so that I had to wear a tooth-brace worked by elastic bands.
I was also left-handed, a condition perceived as a curse or handicap by my grandmother, who used to slap a ruler edge-on against my left hand when I used it in preference to my right - improperly.
My mother had a married sister who resented me even more. She made sure that neither her mild and very-good-with-his-hands husband nor her very-good-with-their-hands sons ever had a chance, or the desire, to show me how to hammer a nail straight, wield a screwdriver, put a nut on a bolt without dropping and losing it. She "deprived" me of the only possible "male role-model", and so I gradually, unconsciously became my own role-model. And still I am, although I now have plenty of men I admire - Schopenhauer, Nietzsche, Mauss, Bourdieu, Foucault, Diogenes. Whitman - and even the ineffable Yeats and Rilke, scoundrels though they were.
I also attached some admiration to the only picture in the house which affected me: a photograph of Charles Dickens with a splendid beard. From early on my only ambitions were to grow a beard, smoke a pipe, and wear an earring like a pirate - not the dream of the usual effeminate, sissy or nancy-boy! I had fulfilled them by the time I was twenty-one, and have never had any other ambition, except to write short stories as good as Kafka's. Of course whatever my talent for poetry (unperceived by anyone else) I do not have a talent for story-writing.
My uncle used to spend his summer holidays on the chilly North Antrim coast, bringing his wife and - at that time - two children. I have never cared for beaches, because, like any Molly (another of his words was Shibby, along with Sissy) I hated sand in my socks and shoes. My feet have always been a weak point, partly because they are very broad and, in the 1940s and 1950s broad shoes were simply not available. Working-class children were given large boots into which they could grow, but I had to wear shoes that were too narrow, so my feet were scrunched. They are the only part of my body that I, even today, do not like to reveal.
The North Atlantic was horribly cold. The weather in July and August was (and is) rarely warm. "My Family" were all sporty and outdoor - but I preferred to go off to somewhere relatively warm and read Conan Doyle or Dumas - and before that, Enid Blyton. My ingrained anti-sportiness and self-exclusion has intensified as I have aged, and I am sure that it is the chief and defining inheritance from my (mercifully-) unknown father. My reluctance to brave the weather and the pitless waves of the North Channel was obvious. But I enjoyed excursions. I loved maps.
The famous Giant's Causeway was not far away. I remember one excursion to it, after which I bought (or asked for) a miniature simulacrum of "The Giant's Chair". My uncle told me that if I put it in a basin of water, made a wish, and left it overnight, my wish would be granted. Of course, being made of painted plaster, it simply dissolved. My uncle was highly amused at my distress.
I and his two eldest children (Sylvia and Geoffrey) learned to swim in very dangerous, cold circumstances, in a rocky cove (more like a small chasm) in which we could have hurt ourselves quite badly. I was the last of the three to learn. This was probably just as well for Geoffrey, who might otherwise have borne the stigma of Shibby (could this be a corruption of Siobhán ?) at least for a while.
My good memories of the years of summer holidays spent in a cold, rented house in Ballycastle, county Antrim, were the evenings with my mother who took me to my favourite place: the graveyard and ruins of the Franciscan Friary at Bonamargy (beside the river Margy) on the edge of the village. I loved walking over the ruined walls, hopping down into rooms, running up and down stone stairways. I also loved walking over rocks and pebbles, because they provided challenges to balance which I found delightful. Even today, in my seventies, I love walking over rocks and stones.
I loved the old headstones in the graveyard. Even then, I loved the quiet and the lack of other people around. Not only was I a sissy and 'a bit of a drip', but a loner as well !
There was of course very little 'culture' in Northern Ireland after the second world war. But touring companies had not yet died out, so the amazing Donald Wolfit brought his company even to Belfast, where my mother made sure I saw his Shakespeare productions. The other touring company was The International Ballet, which made a greater impression on me.
I wanted to become a male ballet-dancer. I had the right stance (feet turned out, which was also considerfed to be a defect). But my lack of supple co-ordination largely due to my enforced partial right-handedness (and left-footedness) would have prevented me from ever becoming a dancer, even if the opportunity could ever have been offered. Nevertheless, I loved the challenges to balance which I saw in Swan Lake, Giselle and Coppélia. And I found the music enchanting: it carried me aloft and above the dour, grey, sectarian respectability of Belfast. My liking of Tchaikovsky's lesser music was no problem to my uncle - who could play the piano well enough to impress a young boy - but my desire to become a dancer, rather than a train-driver like my cousin Geoffrey, sent up another red flag.
So my uncle, aided and abetted by his friend and fellow medical student who was also our family doctor, urged that I should be 'toughened up', and sent to a Proper School for Boys where rugby and other rough and mindless games were compulsory. Thus I was taken out of a normal Public Elementary school which I liked, where no "game" was obligatory, and which had reasonably good (and reasonable) teachers, to be put (mid-year) into a 'Preparatory School' whose outrageous fees were only part-met by the state. The fees were outrageous because the teaching staff was outrageous and largely Dickensian. A private school for boys in the 1950s was little different to Dickens' Dotheboys Hall. I was 'encouraged' to eat horrible food at dinner-time - and thus began my passive resistance to schooling and all authority, because I simply refused to eat it, sitting alone at the long table under the cold eye of a teacher until the lunch-break was over, and my almost-full plate was taken away.
I was picked on by particularly-untalented teachers - especially those teaching mathematics, which I loathed. I was cuffed and caned a lot. I suspect that they got a whiff of a Sissy in their midst. I was not the only pupil to skulk on the edges of football and cricket fields; not the only pupil who was unable to turn a somersault or vault a 'horse' like the Brave Chaps in the propaganda film The Great Escape.
But I think I was the only one whom the headmaster recommended to be sent to a Child Guidance Clinic, staffed by 'qualified' people as incompetent as the teachers of Cabin Hill Preparatory School.
My poor mother was caught between her sympathy for me and the demands of the males (brother, family doctor - who also, gruesomely, was the school doctor) who were desperate to Make A Man of me. She consequently lost my trust, and I became "A Liar". In other words, I did not have the objectivity, the courage or the trust to tell her how much I hated school and exactly how I suffered. She was hauled up in front of the horrible hypocrite of a headmaster (aptly nicknamed Greasy) almost as much as I was. She was part of a loathsome little game in which I was the ball, and was encouraged to be ashamed of me. Children who lied out of pathetic defencelessness were condemned as morally blighted, and in need of 'curing' or 'straightening out' by compulsory games and surreal rules. It wasn't until I read Carl Jung that I began to understand the infantile games of adults. Needless to say, I then became a fan of Angela Carter, Bruno Bettelheim and Marie-Louise von Franz.
Had the adults known of the Experiments in the Bushes with my circumcised friend Herbie Balmer (who likewise loathed 'games' but was very bright and complaisant), I could have been sent for electro-convulsive therapy or worse.
Had I not had an accursedly high IQ, I would have been expelled at various times during my school years. If only I had been duller, less thoughtful, less sensitive - Normal, in fact! I think I transferred this desire after I left school by generally avoiding 'normal' middle-class (and especially) sporty people, and becoming déclassé, associating with folk-singers, Catholics and the unemployed, with whom I was happy to identify, as I had identified with smelly beggars and 'bad' (independent-minded, gangless) boys in my early years.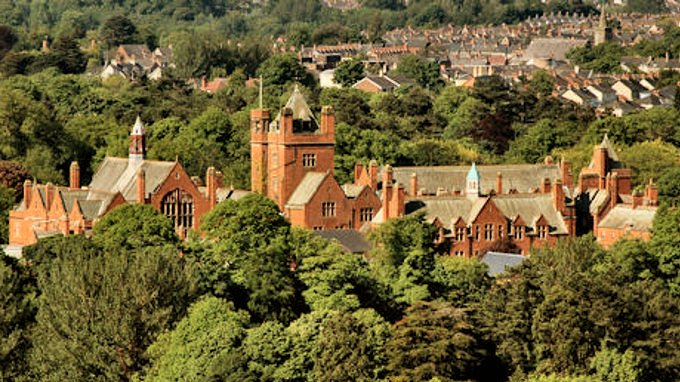 Since I was a pupil, my odious school has sold off much of its land and shrubberies for tasteless and depressing private housing.
But I was a 'problem' only to male adults and their admirers. I have never had a problem with making friends, even though I was bullied from time to time by the 'tougher' boys, one of whom got a kick out of pissing in my mouth while his friends held me down. He (surprise! surprise!) went on to become one of the most famous rugby players for (rugby-playing, i.e. Protestant-Ascendancy, Ireland. I was also targetted by at least two (my memory is not good) teachers, plus the weasel-wordy, bluff, pipe-smoking headmaster, who taught Greek unbelievably badly, and punished me for my own good, etc. etc. I had good friends at school, including one (slightly "better at games" than I) with whom I would repair once or twice a week deep into the dense rhododendron shrubbery to do genital things together.
He was a surgeon's son (and went on to be an anaesthetist) so we clad our sexual precocity-curiosity in medical terminology, using medical textbooks that were available to both of us. He was circumcised and I was not, so we performed endurance experiments on each other. How close could we put a lighted match to our glanses ? What weights could we lift with our erect cocks ? My friend Herbie usually won, because circumcised dicks have lost most of their sensitivity along with the foreskin - a fact which bears heavily on the treatment of women by Muslims and Jews. But these were innocent, almost wholesome, competitions by today's standards.
Moreover, I could make my cock look like his, but he could not make his look like mine. I did not feel inferior nor worthless as I did on the "sports" field. (One of the most popular "sports" of all time have been Bull- and Bear-Baiting.) We were friends who would go on to have a cheerful rivalry at the top of biology classes. This was one of the few subjects which was well-taught (by a non-Varsity man) in the senior ('grammar') school to which we automatically graduated at the age of 11 or 12.
There too my career was very tarnished. I became more rebellious. I was interested only in a few well-taught subjects (English, French, Biology) and made absolutely no progress in the especially badly-taught subjects of mathematics, physics, chemistry and Physical Exercise.
My uncle and his friend the school doctor then advised my mother to have me board at the school (which was only two miles from our home). This was a further expense - and good money after bad, because I ran away. Running away from school is what sissies do, boys who won't "face up" and "knuckle down" and turn their whole being inside out to please battalions of 'normal' males who are unsure about their masculinity, and visit their fears on defenceless children. But I also did a very butch thing: in my "study periods" I stole day-boys' motorbikes, worked out how they were driven, and whizzed gleefully around the countryside with considerable risk to life and limb. It was amazing that I did not crash. This was in the days when motorbikes generally did not have batteries and were kick-started - a problem for me because I am left-footed.
Their next interference came at my final year. They (with the headmaster) decided to make me a Prefect, thinking that a little brief authority might make me join the system and take them seriously. It did not. I refused to censure and punish younger boys unfairly. I even did the unpardonable thing of actually writing the Lines (500 times "I must keep my hands out of my pockets" or similar) imposed unfairly on a boy by a fellow-Prefect. This was a kind of class-perfidy, an act of treachery against hierarchy. I was seventeen.
My "fellow" schoolmates comprised: bullies, charmers (but no self-harmers), cheats and sneaks, hiders and skivers, duckers and divers, skulkers and sulkers - but I was none of these. I was enjoyably teasable. If I was baited enough, I would fly into a literally-blind rage and throw something. The teaser would then sidle off, very pleased with himself - except for one time, during a Boy Scout afternoon (I refused to join the militarist Combined Cadet Corps), one of my persistent teasers had a go at me. I picked up a Scout-knife and threw it wildly in his direction - hitting him freakily just above the knee and causing a wound requiring stitches. I was caned for this, of course, but gained the admiring sobriquet of Mack the Knife. Needless to say, I couldn't catch a ball nor throw one over-arm - nor whistle through my teeth. Not many children actually can do the whistling trick. It requires a very acrobatic tongue - and I have always had a 'lazy' (that is to say, unacrobatic) tongue.
My uncle had a central parting in his hair. This was the worst feature of T.S. Eliot, whose poetry I came across around the age of 15. His best work is certainly The Waste Land - a gold-mine of a poem which had itself mined The Golden Bough. His worst work is probably the Four Quartets, banal, typically-occidental musings on time and existence which any eight-year-old Buddhist trainee-monk would recognise as superficial. Would that Mr Eliot had had the seriousness to read the works of Rumi or Hafez even in the poor translations then available. But FitzGerald's re-interpretation of The Rubâiyat of Omar Khayyâm was (and is) widely available, and he seems not to have absorbed any of its deep and serious humour...
My uncle, as I have said, played the piano competently, at least to my innocent ears. Not of course Chopin or Debussy or other sissy-music - I can't remember what he played. I was sent to his former piano-teacher. She almost killed my love of music. I felt like the child in Marguerite Duras' mysterious Andante Cantabile, except that her child could play well while refusing to explain what andante cantabile meant, whereas I played badly but with no problem in understanding the markings, verbal or otherwise. Neither I nor anyone realised but I am dyslexic regarding sheet-music. I can read the notes, more or less, but cannot work out the way they should be played - the timing, in other words. This is ironic because I am now incredibly aware of delicious rubato in Chopin performances as in O'ud recitals. I have a very good sense of rhythm (e.g. tabla) but I cannot read it off a page. So my piano lessons fizzled out. It took me a year or two to regain my interest in European classical music; after my childhood enthusiasm for the lesser music of Tchaikovsky came that composer's major works, and then Sibelius, who was an Open Sesame! to many musics.
My uncle certainly "had a good war". This was not true for two of his three sisters. Though he volunteered and sailed the high seas in a position of manly authority, they, in London and Canada, were summoned home by their mother to live with their mother after war was declared. My mother could quite legally have stayed in Canada as a teacher, but "felt it her duty" to obey the summons. So it was for daughters. A year or so later she found herself pregnant.
Her unmarried sister had a network of friends in London whom she lost in returning to Belfast and finding a dreary job in the Victorian fustiness of the accounts department of Post Office Telephones, a job she loathed and endured for over twenty years. It was she, kind and generous, who helped bring me up, while my 'fallen' mother was, perforce, "across the water" as a WAAF attached to the Meteorological Office.
It is not good to dwell upon childhood wrongs real or imagined. The motto of my third-rate Public (i.e. semi-private) School is Ne Obliviscaris, a Latinisation of the Dinnae Forget of the Dukes of Argyll and the Campbell Clan, though it is a mystery to me why they should not forget their infamous pro-English massacre of MacDonalds in Glencoe in 1692.
I have probably given the impression that from early on I have been in control of my life and knew what I was doing. Not at all. Most of my life has been spent in a fog of hesitant unknowing. Or rather, I have almost always felt out of my depth. My behaviour has been bold - but blind.
And I am still somewhat prone to little object-hurling outbursts of tearful rage when my goat is got.

<< BACK<<