from
DISPATCHES FROM THE WAR
AGAINST THE WORLD
by

Anthony Weir
published 1996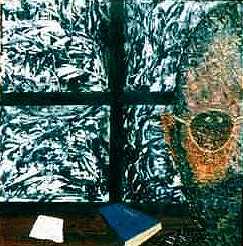 THE BEAUTY OF PERFECTION IS
ITS IMPOSSIBILITY BUT ANYTHING
IS POSSIBLE TO THE IMAGINATION

So animal and so benign
the Tyger is my sentinel
my balm of blessedness
my vigilance
the fur most exquisite
in his underparts
his eyes night-centred suns.
In his uninhabitable place
he wears a cage
of soft-edged dashing stripes
a moving maze.
I wear my beast-face:
for his desire
I am a gracious
Minotaur.
IN OCCULTATION

On the Turin Shroud
Which it is claimed
Our Lord was wrapped in
And retains His image
His clasping hands eclipse
His cock and balls
In holiness think the faithful
For comfort in loneliness
The least of misfortunes
Say I who sleep thus
and wake in occultation.
trichoPHILY
RUE DE LA PETITE TRUANDERIE

I would like a lover
who looks like my teddybear
who will ask me to do
what I want to do
and travel with me
to the inner and the outer.

As for sex
I have no preference -
but not many women look like my
teddybear,
though I saw a splendidly
hirsute lady in Paris.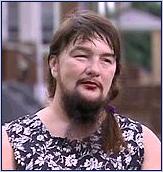 MEAT AND MY MOTHER

My father Diogenes
who lived in a barrel
and barked like a dog
used to masturbate
in the marketplace.

He pissed like a dog
on offerings thrown to him:
meat
and my mother
whom he raped
like a butcher's knife
at a cynical
Christmas Party
giving her crab-lice
with his rushed sperm

and half a lifetime
of humble pretence.
AFTER THE SINKING
portrait of Padraic Fiacc
His daddy fought bitterly
'for Ireland' - rarely
at home - usually
on the run.
His auntie hoped a teddy
bear would keep him happy
or comfort him at any
rate - or at least keep him
quiet while she did what she
did for the cause
without a gun.
He pulled the arms and legs off
and shat upon the mutilated plush.
He met his mother for the first time
on the boat to America.
Now he is a whining, published poet
and a lush.
As he hugs me guiltily and almost tenderly
I tell him
Sex is only the tip of the iceberg.
HAPPINESS IS DESPAIR HAVING A GOOD TIME
It is as true as rain
and wind
that mind
is pain
And knowledge
differentiated pain
And wisdom the sad gladness
of the immense
realisation
that it is insane
to look for sense
inside the brain
or outside sensation.
GRAND STYLE (TRUE STORY)
Millionaire
Gordon Bennett
bought a restaurant
on entering it
And before he left
he gave it to the waiter
as a tip.
HALFPENNY AND FORTUNE
Where the Hen-boy lived is now
a park of breeding-and-extermination camps
for poultry, stuffed in cages, de-beaked,
often featherless: broilers, layers, white meat
for smug semi-vegetarians, continual supplies
for fast-food outlets. Half a million hens enrich
respectable, respected businessmen
whose consciences have rotted like abortions in a ditch.
The Hen-boy perched upon his cot and crowed
at the wimpled, corvid nuns who took him from
his twilit shed to save his mysterious soul
no longer fowl but good red meat.
There is no photo of him on the Web, though he
is younger than I am - if he still is, unmercifully,
live. His name was Kevin Halfpenny, infinitely
poorer, and yet incomparably purer
than the employees (to say nothing of the directors)
of the Poultry Breeders and Suppliers of Crossgar
and Downpatrick Business Park.
He had brothers and sisters (who did not crawl on beds
of straw), and now, I guess,
nephews and nieces, and grand-nephews
and grand-nieces, some of whom
(perhaps on Facebook or elsewhere on the Web)
work in the monstrous, stinking poultry-sheds.
http://www.feralchildren.com/en/showchild.php?ch=kevin

Although I am unreasonably happy
I know that life's a burden, not a gift.
I would not want to be a Bodhisattva;
to ease my living burden I just drift.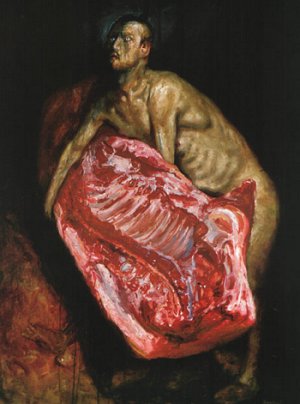 EVERY MOMENT IS A MOMENT OF INSTRUCTION
I write on time's hem, the brink of extinction,
the end ever nearer as leaders and led become madder
and fuller of power and products
None of us more than 10%
conscious and 9% rational, our species
the irrestistible error of crass evolution.
Is the mercy of dozens of hydrogen bombs
more likely to cover the Planet of Pain
than the long, cruel whimper of famine
and drought, the ruthless
destruction even of air ?
Insanely
we think that Creation must live only through us -
but humility is our nearest approximation to sanity.
I write, before being hurled
from the brink of extinction, poems which just a few hundred beings
in all the uncaring cosmos will read:
the beginning of wisdom's the end of our world.

THE QUEST FOR CONVIVIALITY

Many people look for
happiness
[and some for
'enlightenment']
who don't know how to like
their best friend.
SO MANY TIMES
Man's time
no-man's time
sidereal
time, utmost
eternity
and the time it takes
to turn a child
into a producing
and consuming
ghost.
THE EMPTY HOUSE

We are always having and wanting to have
more than that we wanted to have
and had not - so always we do
in order to compensate for what
others did or did not do to or for us
And we have no peace to be
may never have been at all
living our lives without being
always blocking each other
making war on ourselves, each other,
the world
trying to blot out the wanting
by doing and having.
We all move in the same mad direction
away from ourselves, away from being
ourselves, being animals, being voyagers,
being.

The smell of my armpit is ocean
In it I can learn to be.
Unhappiness comes

Like sperm,
from the pursuit
of happiness and comfort.

Reality is just
a little crack
in the façade

And the façade is full of cracks.
Control birth.
Combat normality.
We are as sperm
swimming in
the rectum of reality.

Mind activates awareness
Insight transcends mind
Wisdom's a puddle, decease is catharsis
Men are honest only as they
wipe their arses.
The planet
is an amazing
conversation
that you and I
are stifling
to a sigh.
'Original Sin'
can only be
language:
the one thing
no scripture
can admit.
Deep down
most of us are desperately superficial.
How can we think our way out of problems
when our problems arise from
the fact that we think?
(How do I fit the square peg of my
self-importance into the round
hole of my sense of futility, renouncing
both sadness and self ?)
Time is god, is love
is sightless, dumb
creates. destroys
and tells us only
that we are noise.

TO MY FAVOURITE DOG
(before Oscar came into my life)
Poetic ideas
ferment in our eyes
congeal in our dicks.
You whisper sensual stanzas
into my ear.
Poems are bad
translations of licks.
Love
is Soup Dream,
Life
is Dream Soup;

Wine
is the love in the tortured vine
and art
first pressings of the hardened heart;

Enlightenment
is really knowing who you really are:
an animal with pretensions.
TANTRA-MANTRA
Once you have understanding
throw that understanding away
and look for a new one,
like breath after breath,
for having is clinging.
True happiness comes
when you no longer hold on to happiness:
for the spirit needs desolation
as much as the body needs death.
THE GREAT ATTRACTOR
Only 10% of the total mass
of the once-expanding
now-contracting Universe
is matter. The rest
remains ineffable, in occultation.
As each of us crawls helplessly
back and forth between our ears,
on a planet spinning on its axis
and revolving round a sun revolving
in a galaxy which hurtles at six hundred
kilometres per second to the black holes of
the Great Ineffable Attractor,
we think we are important
and live as if we were immortal.
And we predict that the duration of the Cosmos
will be another 15 to 20 billion years.
SUPPOSE ANYTHING, BELIEVE NOTHING

If men could only feel
their cocks were feminine
and reality as just a crack
the world could almost be
the paradise it was.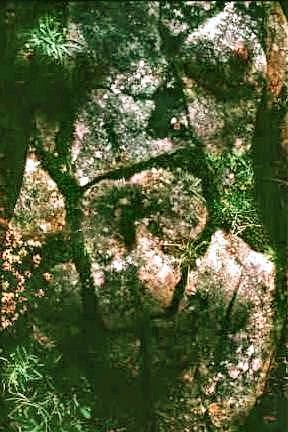 THE MOTTO OF CAPITALISM: ENOUGH IS NOT ENOUGH

The animal garden
Is now a murder-hole.
Language was always the Labyrinth.
Civilisation is striving, spurning
starving, burning
mass graves and marble tombs,
wonderful wine and no-one to drink it with
but the Black Riders
the achievers, civilised dealers
in death, machine-mad
half-controlling the machine.
They are the forms of desire
(suppression of grace and soul-breath)
stencils of men,
power-bleak, power-black
teeth in the maw
of perpetual war
against Nature and grace

as the planet of pain and vainglory
hurtles through space.
MIDNIGHT AT THE CROSSROADS OF AWARENESS

Wisdom is the road to wisdom
The dust upon the road is love
The road is made of dust
Is unimaginably short
Wisdom unimaginably brief
Deep upon the road love lies
Burying the corpses of the almost-wise.
On the edge

between pettiness and glory
I walk in sleep
surrounded by
the unknowable on the unknown
boundary beyond which all is radiant
dark
and I not yet
a selfconsuming spark.
A PATH IN GREAT WATERS

Between the sleeping and the dreaming
Lie the landing and the boat
Between strange and stranger shore
A timeless stream
A floating door
A ferryman

The ancient guide
Manifest dream-master
Mythic ithyphallic bride

I am the dismembered masker
Orpheus come like ore
In the dazzling dark
The teeming maze of the mine
To drink the piss of the Minotaur

Though dreams like myths and stems entwine
We dream apart
Each drowning as we grasp the door
Abstract as thresholds
Scattered in the silent roar

HAPPINESS IS THE PROMISE OF BEAUTY

Farouche
Mr Wussy
the pansy painter

cuddled and kissed
a lion-tamer
who never had cuddled
a man before

but wrote his
address on a
cubicle-door
AS A DREAM OF A NIGHT VISION

Because I look from outside in
I seem to come to life through burglary.

Puppet deliberately tangling my strings
so as to have to cut them,
I might thus fall from
rôle not to reality but grace
belongingness beyond longing
affinity beyond sex
conviviality beyond consumingness
of fire where spiders burn
and webs transmute to puppet-strings.

Because I take and take to things
things which I make magically
execute me
and I am only questioning and doubt
looking ineluctably from outside out.
Horsebreaking
is much worse than
housebreaking.
TOUCHING BOTTOM

In the easing silence of eventless
solitary days lurks wisdom...
somewhere. I am waiting in the muddle
of waiting for wisdom
(as for a tail to grow)
for illumination like a turnip-lantern
for the ghost of an answer
to the unanswerable riddle
Waiting for my lover
dark enfolding infinitely-gentle
Brother Death
The great cuddler
The great cuddle
At the last breath.

Where KILL is more acceptable

a word than FUCK
people force their children to accept
unhappiness as a treatable condition.
HERE NOW, IN THE JUNKYARD
OF REALITY

The smell of death
is a lover's smell:
unchaste, alone,
I'm perfumed by
magnificent disgraces.

When day is strange dream
divided by night
it's time to extinguish the light
and dance in the odorous places.


THEY SAID THEY WOULD LEAD US TO GOD
BUT THEIR TERRIBLE GOD WAS MONEY
Soul resides in hair
and fur and feather
scale and leaf and earth.
Soul is part of sap and rock
and blood and turds and weather.
Soul inhabits empty spaces -
not brains nor hearts
nor tongues nor mouths
nor eyes nor faces.
Soul resides in fur and bushy places.
CULTURE IS THE VULTURE
THAT RIPS APART THE HEART
Every day that passes
I loathe the turnkey classes
more and more and more.
I never lock my door.
EK STASIS
In the soulzone
Conscious in the
Ancient armpit
Of the Unconscious
At every moment
From the very start
To the very end of time
All that matters
Is awareness
That nothing matters
And fulfilment is
To fall apart.
It is quite difficult
to like human
beings
when you're quite sure
that you don't like being
human.
Nothing is as difficult
as not deceiving yourself." - Wittgenstein

In Siena
On Tuesday
I stole Panforte, postcards & calendars
ate too much ice-cream
and strolled to the Asylum
where I saw marvellous ceramics,
and, after modestly mentioning
my disabilities,
was invited to come and make
permanent use of the splendid facilities.
CONFESSION OF A FAILED ABORTION
In the absurd
eventuality of re-incarnation
I should be desirous
of returning as a bower-bird
or a retrovirus.

FIVE POEMS FOR LOUISE ERDRICH


1. SACRED
What is sacred
is secret -
which is why holy books
are no more
and no less
than literature.

2. DEVIANTS
tend to deviate in just
one respect; in all others
they are depressingly
conventional: they collaborate.
The same seems true of dissidents.
Almost every day I see and hear
the sleepwalkers, and feel
that I'm almost the only
person who's awake.

3. HOMO SAPIENS ELIMINATES
LARGE SLOW PREHISTORIC BEASTS
AND SINGING NEANDERTHALS
There was genocide in Eden,
naturally, as light follows dark,
so we turned it
into an abattoir with
unmanaged theme-park.

4. GLOSS ON D.H. LAWRENCE's POEM, 'SNAKE'
The long, thin
invisible
snake-god knows
that a bigger sin
than pettiness
we need to expiate
is sentimentality
its twin.

5. DECLARATION OF INTENT
I will respect the stone
whether love or loss
comes out of it,
even if blood
comes out of it,
for my respect is moss.

I am open
like a wound
that smiles
and kisses with
its tender edges
knives & rags
and flies & thorny hedges.
RENOUNCING SELF-IMPORTANCE
There are no good guys.
Beggars
and paraplegics
are
the
only
heroes.
TO AMNESTY INTERNATIONAL
I mourn in anger the fall
of Lucifer
who was the first political
prisoner.

All this mess
is made by prisoners
of consciousness.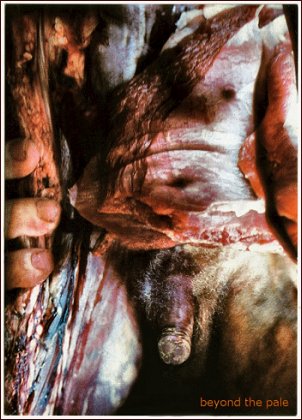 IF ONLY
Almost all my life I've heard
beseeching choirs:
First beat down the prisons
then the abattoirs!
BEACHED
The sea constantly
ceaselessly conjugates
the verb to murmur
sometimes very loudly
sometimes so quietly
it's barely a rumour

And the white juices
flow
from black forces
below
and it conjugates to murmur
lovingly and cold
cold and passionate
violent and cold

So we are told
who only dream the sea
desiring it dreamingly
seeming to be awake
and just out of reach
on the small fragile beach
where the shadows flap and shake.
IT IS VERY DIFFICULT TO FIND
THE REAL THING
I had a friend
who had a friend
who had a stone
for a friend,
for a teacher:
a master
of silence.
THE WELSH WORD FOR ENGLAND IS 'LAND THAT WE LOST'
More beautiful
than a beautiful thing
is the ruin
of a beautiful thing.
The most beautiful thing is
not to have been born
and, having been born
and reborn, death
is the only decent thing.
GERTRUDE STEIN
Gertrude Stein wrote mantras
delicately. Rude mantras wrote
refined Gert Stein.
Miss Mantras was the thing itself,
the liberty of thing
ringing in oblique observation
like mad. Mansanity
of selfaplomb so whimassured
and dedication to the liverty of word
released from mantrashliterality of consonants and vowels:
speech is cruelty to wise silenciousness.
Splendid right unto her bowels
divinely mooing sticky tantras
Gertrude Stein wrote spunky mantras
quite a lot -
as I cannot.
« MORCEAU DE NAPOLÉON »
Ventôse 1990
"Who dares to speak of '98 ?"
Napoleon had very tiny private
parts, hacked off, apparently, post mortem,
sold to a criminal Canadian
newspaper-publisher
for £18,000 some time ago.
His mistresses were just for show.
Had the Irish
(whom he failed to liberate)
known this, they might
have placed their trust in -
pointed in dance
around -
their 1800 phallic stones
and not upon the impotent and upstart
Emperor of France*.
*The reports on Napoleon's life and death on St Helena are still a British State Secret.
IN LESS THAN 50 YEARS' TIME
THERE WILL BE NO CORAL REEFS
- OR FISH
To seem to justify
their own existence,
people have children
who have children,
dynasti-exponentially
with insane persistence.
Death is The Second Coming
Words are
the darkness speaking as light
pretending that comfort
is other than night.
ANTIFAME
The man who invented Négritude
became a very cultured and urbane African dictator.
I, who have (alongwith the title of this poem)
just invented Dissentitude
to describe my attitude of utterly-dissenting self-effacement
am (and will remain) completely unknown
except to my computer, my non-sexual partner, my few friends
and my murdered dog.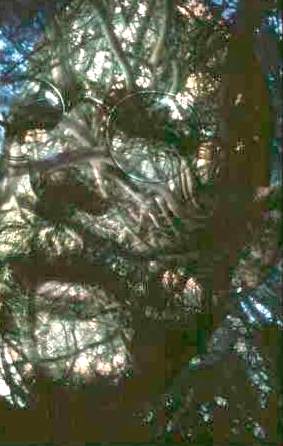 To be human is to imagine, then create, problems.