archive selections from
PREVIOUS PAGES OF THE MONTH
including haikai

going back to March 2000

WEDDING DAY
by
Ledjana Paja

On her wedding day she wore a mummy-cloth.
She was quiet, as the dead are at their ceremonies.
Her leg bones had been cracked by the jaws of dogs.
On her feet were hesitant white shoes,
Too large, like grown-up weapons in a child's hands.
Then she moves, without moving, before
The dance begins, her eyes weeping time,
To a dance that would never stop
To let the day begin.
23 songs played on her wedding day.
Congratulations came from all and sundry,
Each worth a future told by an astrologer
In the Middle Ages who specialised in false prophecies.
All she knew was that by being silent
Something became important, for a while.
The others were there to be repaired by fate.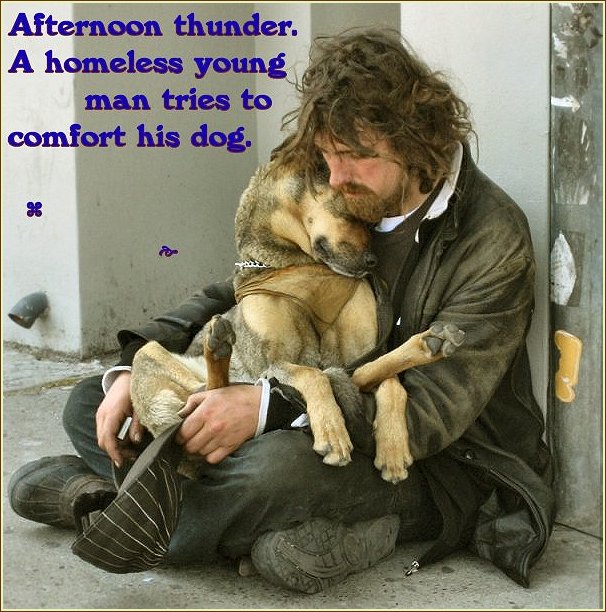 TWO POEMS
from the literary ladies of Pond Cottage
Carrowcarlin, Strangford, Northern Ireland

MRS BROWNING
Villa Cipriani, Asolo

Did Elizabeth Barrett Browning
wake in the night
and, instead of writing a poem
or composing a letter of protest,
worry about soaring temperatures,
the lack of ice,
unexpected visitors,
the laundry-maid's sudden disappearance
and the menu for next day's dinner ?
Did she wish that she had
not become a romantic icon,
not given birth at forty three to Penn,
who lisped prettily in several languages
and swore fluently in several more,
and became
a property developer ?

Did she long for her couch,
with Flush beside her in the darkened room,
and the evening clear before her,
luxuriously free ?

DANCE CLASS
At the back
in the corner
past Confidence
catch sight
when Eagerness moves
in almost perfect time with Popularity
and Vanity cocks her head to the side
look quickly
before Authority notices
the curl of a girl
hugging her Reticence
her best performance over
her audience gone
sitting there
with the tart metal
of unworn shoes in her lap
as worthless now
as a discarded bouquet
and yesterdays provincial reviews.

TWO POEMS
by
Ryan Strong, Seattle (WA)
for Anthony Weir

GEOLOGY
Some days I have
difficulty
seeing beyond
my own eyelids.
The whole of reality is a
blurred mass
of indistinguishable circumstance.
All things are one
with my isolation.
I want
not a fresh start -
but a severance.
An uncompromising
disconnection.
An
unfettering.
To be left
alone.
Adrift in stone.

INFINITY
Our lives,
by all accounts,
are just teardrops
in unending seas.

FOUND POEM
The main character of the Turkish puppet theatre is Karagöz.
His name means 'black eye'.
You can recognize him by his turban, his bald head and his black beard.
His left arm is longer than the other one.
When he gets into a trouble he always starts hitting with his right arm.
Karagöz is Roma.
He and his companion Hacivat are liked for their jokes and interesting adventures.
Their jokes are so funny that people can't stop laughing.
Karagöz is often rude. He says bad words that other people don't say.
He doesn't like rich people.
He never has money because he doesn't work and that's why he is always hungry.
He can't work because he can't do anything.
His friend Hacivat is the opposite of him. He is clever and never
says bad words. He speaks nicely,
which is why Karagöz often doesn't understand him.
Luckily, Hacivat is clever and always thinks of different ways to get money for them.
He gives Karagöz food to eat and helps him out in other ways.
This story is just to give you an idea of what these puppets are like.

SCAPEGOAT
by
Born Romania 1954,
currently living in Gallup, NM, where he is Associate Professor of Mathematics.

EVEN IF HE DIDN'T
HE DID.
During the Black Death, the principal

scapegoats were lepers and Jews...
CHAGALL'S LEG
by
Vi Whitehead

With an Epidural there is no pain
just noise. The anæsthetist
recommended earphones -
a soothing Sony Walkman®.
The operation started
at the start of Woman's Hour.
Through the sawing, filing, hammering
a soft voice said
We're going to move you now.
And above the haze of pale-green gauze
my leg detached itself and floated
plump and wan and lifeless
in an impossible trajectory towards
the corner of the room,
lacking only goat or violin to
turn into a painting by Chagall.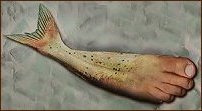 COMPULSION
by
Emma Whitehead
Strangford, Ireland
...wondering
if I could
borrow you
A wee job
in the garage
it'll take
two minutes
the axle
I need to shift it
over there
if you grab hold
here and here
and I do the same
that's it
swing round
back it in your end
is your thumb ok ?
you probably just
staved it
it needs to go
on the cardboard
one more heave
Good
you best get back
I'll give you a shout
when I need you again

This is the only good poem I could find by a man writing in Irish
who is much lauded and awarded in his native land.
Cathal Ó Searcaigh
STREET CORNER

On summer evenings when we were boys
we used to rally round the telephone-pole
next to the chemist's shop on Kelly's Corner
at the crossroads for some male bonding
before the picture-show.

The pole always sounded mournful.
Sometimes the town-drunk's son
would look despairingly at the patent
medicines in the chemist's window.
He'd put his ear to the trunk of the pole
and say he could hear the whisper
of his little sister's wailing.

That's more than twenty years ago.
All those boys have big boys of their own,
and I'm the only one now at the corner
in the evening, wistfully
keeping the pole company.
The chemist cannot help.


CORNÉAL NA SRÁIDE

Tráthnóna samhraidh agus sinn inár bpáistí
chruinnímis le chéile in mbaiclí
thart timpeall an chuille teileagraif
atá taobh le siopa an phoitigéara
ar Choirnéal Uí Cheallaigh ar na Croisbhealaí
le cuideacht a dhéanamh agus comhrá
sula dtéimis isteach chuig na pioctúirí.

Bhiodh an cuaille ag ceol go caointeach.
Amanta chuireach mac an mheisceora,
deora ina shúile is é ag amharc go santach
ar na cógaisí leighis i bjfuinneoig an phoitigéara,
a chluas leius an chrann is deirach go brónach
gurbh í a dheirfiúr bheag féin
a bhí istigh sa chuaille sin ag éagaoin.

Sin breis agus fiche bliain ó shin anois
is tá na páistí sun uilig i mbrun a bhfáis
is a gcuid páistí féin ag éirí aníos,
is ní bhíonn éinne ag coirnéal na sráide,
tráthnóna, ach mise is an cuaille teilegraif
is bímid beirt ag caoineadh go cráite
is ní leigheas poitigéara a bhéarfaidh faoiseamh.

English translation by Anthony Weir

SHATTERING ALL WRITING PENS
after Rumi
by
Margie Cronin
New South Wales, Australia

Don't write!
It makes your toes go soft!
Don't write!
You will be eaten by snails!
Don't write!
You will hear voices
and be pursued by every contamination
and lack!
Can you come to the bed
and do things
that can only be done
with flesh ?
Put your cool hands here!
Please don't remember my words!

A poem whose title I have lost
by
Tina Negus
Lincolnshire, UK
Between the making of early tea
and breakfast mushrooms,
unseen garden carnage, outrageous attack,
swift, no doubt, without warning.
Forensic evidence inspected:
blackbird, female, brown scattered breast feathers,
bill open in one last squawk,
skull shattered, brains picked clean.
Verdict: death by sparrow hawk.
Now in Tuesday's refuse bin awaiting collection,
a few dark primaries, two pink worms of rejected gut,
a raked bundle of matted down,
a broken battered head,
and somewhere, unknown, a scrawny raptor chick
receives its morning meal.
High in the budding birch
a blackbird sings in the hazy sun,
oblivious to murder down below,
and in the hedge new-hatched young
gape in anticipation of mother's shadow
on the confines of their world.

ON HEARING ABOUT AID IN MALAWI
WHERE THE POOREST ROAST MICE FOR SUSTENANCE AND CELEBRATE
by
Malcolm Walker
Seaforde, Northern Ireland
What was eagerly expected
was an open hand, generosity.
What arrived was a fist
clenched around its gifts.
Of the three-million-pound budget
most went on American Consultants
who locked themselves
inside their four-by-fours
during their brief visit.
The second largest amount
was spent on buttering up
the local rich, the powerful
with 'hospitality'
in internationally-owned hotels.
Each meal cost more
than a waiter earned in a month.
The poor in spirit
are very rich also
in meretricious promises.

SOMEWHERE IN CALIFORNIA
by
Rowena Silver
living somewhere in California

The week languishes
hot and tranquil
with only an occasional
earthquake
to kick up a breeze

We are now
and always
awaiting
orders to evacuate
some grim dictum of
landlord
mudslide
rockslide
flood
fire
earthquake
love
or some other
notion
of a clumsy god
This morning
my old dog
has cornered a skunk
under the house
I rush out
half-dressed
grabbing my shoes,
the cat,
my fresh poured
cinnamon tea
creating a tsunami
in the steaming cup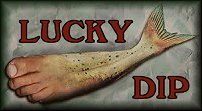 FUNERAL
by
Alexander Clark
living somewhere in Britain

They brought me flowers: they had
never done that before.

They spoke my name and wept: they had
never done that before.

They spoke of how wonderful I was:
they had never done that before.

They covered me with earth: they had
never done that before.

I watched them all depart: they had
never done that before.

Now I too will weep.
I have never done that before.

WAITING
by
Gerald Sturdy
West Midlands, England

my father lies dying
the night grows long
and we grow weary
of waiting...

his breaths
now short
the intervals between
now long

my father lies dying
as the night grows long
and we grow weary
of waiting...

his breath -
now the last
finally
breathed.

DISSENTER
by
Celia Emmelhainz
Columbus, Ohio, USA.
Officer, how may I speak a syllable when you betray,
When you turn me over to these rabid wolves?
These ones do not nurture, do not found cities--
They gnash me to the core, pull me apart.
I watched you kiss my cheek, then turn away.
Did you think these monsters meant to teach,
To guide me to a great maturity?
See how I gasp within, yet smile and laugh,
As jailers joke about the balmy weather.
I won't have their teeth piercing my neck--
I'll be the one to respond as they require.
Officer, you call me crazy—but you're the grinner,
Laughing as I'm pushed onto a red-flagged path.
You name me dangerous—but you're the silencer:
Your manicured hands over my mouth—the way
You splinter my wrists with iron mallets and
Assign me release forms that do not release me.
One flick of your fingers and I must touch the sky,
A pet of my hair and you demand my life's blood.
I don't believe the praises of your stubbornness:
You lounge in an office chair, drinking flavored coffees,
Snarling at my questions. Who has the strength
When you are the only one permitted to speak?
I'll tell them all, when I have a voice:
Build up the walls, the rights to stand behind,
Before the Officer arrives to drag you down
Infernal avenues of well-meant plans.

SNOW GEESE
by
Frederick Lowe
New Jersey, USA

You would think, watching these sky-ladders
These thousands of wings
This spectacle
Of birdswarms rising,
That the dumb, heavy earth
Was finally taking
Leave of itself; that all
That we thought of as solid
Really was dross, dull chrysalis
As our myth and secret wish
Would have it,
That the Resurrection was true
And come to pass
This 25th day of February
- And that we would fly, too.


THE MIKADO
by
Frederick Lowe
New Jersey, USA
I remember one winter
When it snowed for three days
And blew and blew until the drifts piled
Against the kitchen windows.
Although it snowed more, and more often
Back then, that was one storm to remember.
The electric went off, and we slept, the four
Of us - my mother, my father, my grandfather
And I, on goose-down quilts on the kitchen floor
Against the coal range. My grandfather
Kept the stove stoked so high, it glowed like a boxy
Red demon in the dark. My father cursed
And said my grandfather'd burn us out
in the middle of the goddamn blizzard,
but he was, for once, half-hearted
in his rant. We drank up the heat,
just couldn't get enough of it. I huddled down
in a happy nest between my mother's breasts
and my father's bristly chest and was wafted to sleep
on what I thought was the perfect aroma
of love.
In the middle of the second night,
The wind turned. In minutes, the sky
Was swept clean. Huge arctic stars suddenly spangled
The window panes. We huddled closer
As we heard the cold roar down the river.
We woke up to stillness, to rosy, golden fingers
Of light obediently tracing the fiddleheads
of frost on the windows. My father,
who never was a sitter-still, said he and I ought to go see
the plow train come through. My mother protested a little,
but not too much. She wrapped me tighter than the Infant Jesus.
in snowsuit, scarves, and a homespun blanket, then kissed me.
Thus we set out, my father, and I on his shoulders,
Down along the railroad berm above the river.
He strode manfully in diamond-glitter powder
that came to his waist. Yellow branches creaked
Overhead. The river ran along below us --
a rich indigo that frigid, brilliant morning, a blue as shocking,
as vital as blood. And then we saw the plow engine
coming, a chugging Leviathan with four drive wheels,
many times bigger than any engine we'd ever seen on our line,
maybe even a Mikado, effortlessly pushing the drifts aside
in Niagara cascades. My father jumped down,
we fell, rolled, lay on our backs laughing
as the sparkling grains of the plow-spew rained down on us.
Many years later, as he lay slowly dying,
I asked my father
if he remembered that storm.
I wanted to feel what I had felt for him
That ancient morning one more time.
No, he said. It must have been a dream or one of my stories.
Nothing like that ever happened between him and me.

LOST
by
John Whitworth
This poem was Highly Commended
in the Poetry on the Lake competition 2002
and was published in the competition select anthology,
Hortus Conclusus, Orta (Novara, Italy) 2004

This is the land of the lost,
The land of the lost.
This is the forest of tears,
The forest of tears for the land of the lost.
This is the woebegone lake,
The woebegone lake
By the forest of tears for the land of the lost.
This is the newspaper child.
The newspaper child
With the celluloid boat on the woebegone lake
By the forest of tears for the land of the lost.
These are the ivory eyes,
The ivory eyes of the newspaper child
With the celluloid boat on the woebegone lake
By the forest of tears for the land of the lost.
This is the garden that dies,
The garden that dies
From the ivory eyes of the newspaper child
With the celluloid boat on the woebegone lake
By the forest of tears for the land of the lost.
This is the mind running wild,
The mind running wild through the garden that dies
From the ivory eyes of the newspaper child
With the celluloid boat on the woebegone lake
By the forest of tears for the land of the lost.
These are the hooves of the goat,
The hooves of the goat
Send the mind running wild through the garden that dies
From the ivory eyes of the newspaper child
With the celluloid boat on the woebegone lake
By the forest of tears for the land of the lost.
These are the hearts that must break,
The hearts that must break when the hooves of the goat
Send the mind running wild through the garden that dies
From the ivory eyes of the newspaper child
With the celluloid boat on the woebegone lake
By the forest of tears for the land of the lost.
These are the unspoken fears,
The unspoken fears
In the hearts that must break when the hooves of the goat
Send the mind running wild through the garden that dies
From the ivory eyes of the newspaper child
With the celluloid boat on the woebegone lake
By the forest of tears for the land of the lost.
This is the terrible cost,
The terrible cost of the unspoken fears
In the hearts that must break when the hooves of the goat
Send the mind running wild through the garden that dies
From the ivory eyes of the newspaper child
With the celluloid boat on the woebegone lake
By the forest of tears for the land of the lost.
For the land of the lost with its terrible cost,
For the unspoken fears in your forest of tears,
For the hearts that must break by that woebegone lake,
For the hooves of the goat and our celluloid boat,
For the mind running wild of a nbewapaper child,
And the garden that dies from his ivory eyes in the land of the lost.

TWO TRANSLATIONS OF A POEM BY PAUL CELAN
IRISH
1. by Frederick Lowe, Jr.
New Jersey, USA
Give me leave
To climb the barley-stairs
To your sleep,
Safe-passage
Along the path of your dream,
The right to cut turf
From your heart's heath
In the morning.

IRISCH

Gib mir das Wegrecht
über die Kornstiege zu deinem Schlaf,
das Wegrecht
über den Schlafpfad
das Recht, dass ich Torf stechen kann
am Herzhang,
Morgen.
IRISH
2. by Anthony Weir
Strangford, Ireland

Grant me the right
to beat through the barley to your sleep,
the right to tramp across your slumber,
the right to cut turf
from your being-brink
morning after.


Note by Anthony Weir:
I think that perhaps Celan - who had never been to
and had no connection with Ireland - was glossing Yeats'
famous line'Tread softly, for you tread on my dreams.'

WAITING OR MISSING
by
Ida Spahiu
Albania

If I was born dead
what am I waiting for...life ?
And if I was born alive
what am I missing...death ?
translated by Zana Banci

and Anthony Weir

SANTOKA'S SHADOW
two mantras
by
Suchoon Mo
Colorado, U.S.A.

Into the mountain
He went
Never to return

Deep into the mountain
He went
Never to return

Deep into the green mountain
He went
Never to return



The road
To a crematorium

The empty road
To a crematorium

The nearby empty road
To a crematorium


ZOO
by
Arthur McHugh
Sutton Coldfield, England

Every morning
the tiger opens his eyes.
Every morning
the tiger opens his eyes
on concrete.
Every morning
the tiger opens his eyes
on concrete and a patch of grass.
Every morning
the tiger opens his eyes
on concrete, a patch of grass and iron bars.
Every morning
the tiger opens his eyes
on concrete, a patch of grass and iron bars all round.
Every morning
the tiger opens his eyes
on concrete, a patch of grass, iron bars all round, and people staring.
Every morning
the tiger opens his weary eyes.

from 'THE ERROR OF BEING'

by
Ion Caraion
translated from the Romanian by Anthony Weir
The prolific poet and journalist Ion Caraion (1923-1985) was persecuted most of his adult life -
under three successive dictatorships:
King Carol II (and his glittering court), Fascism, then Communism.
He spent the years 1951 to 1964 in labour camps, then went into exile, where he died.
Where are they taking you, master ?
Into the garden, slumber.
What to do there, master ?
There to shoot me, slumber.
Because they have bullets, master ?
Because they have time, slumber.
Where will they bury you, master ?
Under a snowdrift, slumber.
Are you frightened, master ?
My stomach's churning, slumber.
Who shall be notified, master ?
The hellish regions, slumber.
Have you relations, master ?
I have nobody, slumber.
Will it be OK, master ?
It will be evening, slumber.
Will you have a cup, master ?
What is the price of it, slumber ?
I wouldn't bother, master.
Of deadly poisons, slumber...
You don't want the cup, master ?
It's smashed in pieces, slumber.
Shall we mourn you, master ?
I wouldn't bother, slumber.
Good night, master !
Sleep with me, slumber !
I sleep alone, master.
I die alone, slumber.
Good death, master !
Good night, slumber !

[In the Romanian of this last poem the lines end alternately with the words
domnule (lord, master, sir) and somnule (sleep, slumber).
Click here for the Romanian text.]

A THOUGHT
by
John Clare
Northampton Asylum, 30th June, 1849
A night without a morning,
A trouble without end,
A life of bitter scorning,
A world without a friend.

THE REIFICATION OF NOTHINGNESS
by
Lynn Fullington
New Mexico, USA
They told us that there was nothing
to be proud of. Others said
there was nothing to keep us from
thinking twice, maybe we send
thousands to their deaths. Then
for them nothing is left.

Nothing to keep the flowers from growing
between their fingers, torn from wrists,
torn from sleeves. All those bombs
to end a war. That is nothing too
if justice prevails.

All those universes we used to call stars
with no sign of life - nothing - and all
the masses of whirling particles
we cannot see, cannot name so we
call them space and call it nothing.

Yet we cannot tell you what
this nothing is nor why a void
should have no value.

CONCRETE TRUTHS
by
Lynn Fullington
New Mexico, USA
The truth in concrete things
makes all things knowable:
"the chair has four legs."

Now that you mention it.
Yes, that is true.

"And all four legs will support
both men and women equally."
How well-disposed this chair !
How free of prejudice !

How willing to endure
the complete stranger
when support is needed.
How altruistic is a chair !

And you see the evidence
right here in front of your eyes.

How magnificent
to find the Unified Field
Theory waiting and working;
Science and Philosophy are together One.

All things fit our abstractions.
abetted by our language, our whimsical
logic, our childhood stories with
happy endings and true

as long as they are confirmed by
concrete reality.




from
IN WARTIME

a sequence of poems dedicated to all those who have been bombed
and will be bombed again
by
Giulio Stocchi
Milan, Italy
"The United States has engaged in two hundred military adventures since 1945..."

an extract from
FOR FUTURE MEMORY
translated by Deborah Strozier

"...where the dead walked and the living were made of cardboard."
- Ezra Pound

Ashes


ashes



ashes
in your silence
lies the scream
Keeping a hold of the rope's end
remembering the path taken
the turns
and the steps
or how we came
to those dim-lit rooms
with papier-mâché masks
abandoned on the ground
and still the perspective
of hallways and pictures
and vaulted ceilings
the cigarette-butts in the ashtrays
even the smallest
clue
the deadening buzz of voices
an evening
to cross (at last) the threshold
of that bare room where
following the whim
of the cards is the wisdom
of the players
until
here and there
in the ruins
their peace
(for a long time) went pecking
the wide-open eyes of the dead
...
It was day-time
it was night-time
it was something
it was absurd
it was a sign
it was a flame
it was a cry
it was a slilence
it was a flash
it was something
it was a whirlpool
it was a wind
it was lightning
it was a brick
it was running
it was the city
it was crouching
it was in the belly
it was screaming
it was everywhere
it was disfigured
it was skin
it was a storm
it was a vacuum
it was a child
it was on the street
it was from the sky
it was in our sleep
it was shrapnel
it was a child
it was at our throats
it was the time
it was unjust
it was something
it was bursting
it was an arm
it was iron
it was a sore
it was the city
it was collapsing
it was forever
it was dust
it was everywhere
it was violent
it was running
it was asphalt
it was from the sky
it was swelling
it was the mirror
it was immediate
it was a wall
it was silence
it was jagged
it was chained dogs burning
it was a claw
it was goldfish boiling
it was silence
it was the mirror
it was screaming
it was a hand
it was a child
it was an old man
it was bursting
it was in the belly
it was the city
it was absurd
it was jagged
it was everywhere
it was grotesque
it was sudden
it was silence
it was the city
it was the time
...
All is calm
nothing has happened
it seems that
All is as usual
flickering
in the dark
the windows
lit up
All


is



as


usual
But someone
assures us
that he heard
something
far away
almost
a cry

FROM THE MENTAL-HOSPITAL
Francis Hooks
Downpatrick, Northern Ireland
There is none to tell each night
How I kill myself each day.
I just say to those who die with me
That this is the way we're forced to be.

PRANCING IN THE RUINS OF AMERICA
by
Frederik Wolff
Loch Caolán, Ireland
Because you wanted power and money,
And were stupid
Millennial slaves to infantile emotion -
Because you cut down all the forests
And fished out every ocean -
Because you trashed the planet
With terrorist devotion -
The thin wolves are prancing
In the ruins of America,
In the ruins of grasping
England and its everlasting Empire
In the ruins of Nineveh
In the ruins of Cambodia and France.
In the ruins of the futile world
The last wolves are dancing
The last dance.

two poems by
'FERNANDO PESSOA'
Portugal's poetic genius writing as 'Álvaro de Campos'
translated by Anthony Weir
1.
What I feel more than anything is - tiredness -
Not that I'm tired of anything in particular,
Nor even of anything, or nothing,
Tiredness only, only tiredness.
The subtlety of useless feelings,
Violent emotions felt for absolutely nothing,
Passionate love for what I think I see in someone,
All that stuff -
That stuff and what it is forever lacking,
All that makes for tiredness,
This tiredness,
Tiredness.
There's bound to be someone loving the infinite,
There's bound to be someone wanting the impossible,
There's bound to be someone wanting nothing,
Three kinds of idealist and none of them me:
For I love what's finite, infinitely,
For I love what's possible, impossibly,
For I want everything, or a bit more, if possible,
Or even if not possible...
And the result ?
For them, lives lived or dreamed,
For them dreams dreamed or lived,
For them the in-between of everything and nothing...
For me, just a great, deep,
Blissfully barren tiredness,
Utter tiredness,
Utter, utter, utter
Tiredness...
2.
If at some point I had turned right
rather than left
had said yes instead of no
had not prevaricated, dithered
in the days when my birthday
(hence my self) seemed important;
had believed in symbols
dealt remuneratively in metaphors
had understood in my heart
as well as my head
that guns and dollars
are the only metaphysics
had imagined what I would be
instead of refusing to be what others imagined
had killed myself quietly
instead of brooding on suicide for years
and years
and now I'm sixty
if I had never learned that stupidest of words
'IF'
(there's only one thing stupider than a word
and that's a human being)
my dog would also be dead.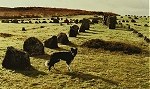 GENERAL EDUCATION CLASS
IN THE PIERCE COUNTY JAIL
THE DAY BILL GATES
LOSES 12 BILLION ON PAPER
by
P. Pedersen
Washington State, USA

She's a nail, aimed at
but hit crooked, skinny
as a throwaway
needle, teeth left behind
in fists. All she can call her own
are her kids: one in Juvie
for running from foster-care -
and the eighteen-year-old: she wants my help
to write him a letter, tell him he's got
to guard her uncashed check:
two months' wages
washing dishes at Taco Bell.
Her voice, a yellow balloon rising
in a gaudy blue April sky:
"My stake when I get out."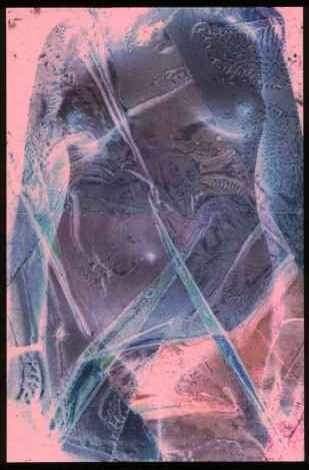 I AM A SNAKE
by Boris Grebenshikov
translated by Artyom Kotyenko and Frederik Wolff
You're smiling, maybe you want a drink.
I'm looking on. Say nothing - just think.
I am a Snake, I'm keeping calm.
Look in my eyes to know who I am.
I can see the warmth of stone,
I can hear its colour and smell.
And when the geese are flying home
I can feel them very well.
Because I'm a Snake, I'm keeping calm
Listen to my words to know who I am.
Sometimes I frighten,
Sometimes I sing
Sometimes I hide away
Become nothing.
I am a Snake, I'm keeping calm
Come a bit closer to learn who I am.
You're smiling, maybe wanting a reply:
So give me your hand and understand -
I'll show you how greenery becomes ash
And how the forest is turned to trash.
Because I'm a Snake, I'm keeping calm
Open your fist - you know who I am!

(Grebenshikov is a celebrated Russian dissident balladeer,
more Jacques Brel than Bob Dylan - with touches of Laurie Anderson.)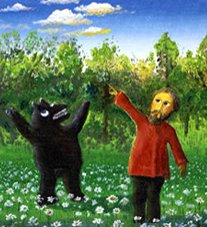 BORIS GREBENSHIKOV'S POETRY GROUP
Frederik Wolff
Loch Caolán, Ireland
HA APTËMY KOTEHKO
There's a freezing draught here
and a hard sort of smell
A few of the older women
read aloud quite well...
Men came intending
to punch me in the face
and you are wondering
why I don't live in this place.
What a daft question!
In the cigarette factory
The one thing that's half-clear
is the vodka made in storerooms.
No bosses have been sighted
for over a year.
They piss on our jobs -
it's their little joke -
and you wonder, dear listeners
why I do not smoke!
There's a guy over there
eating sludge with a spoon.
Another's firing a gun -
who knows what the hell is going on ?
Some other armed person
asks if we like hunting.
And you don't understand
why I'm not having fun.
You can't be serious!
You sat at my bedside
interrogating me
have I got a breathing-permit
and is my license valid
for the local cinema.
Now you're asking me
where I intend to go from here.
Well, I'm getting clear
of the whole damned lot

And that is that is that is that...

For the dead are burying the dead of the dead,
and no-one remembers who was crucified.
The saints have the shakes because of the drugs
and the Ferris Wheel looks remarkably like a treadmill.
And all those Not like us patriots tell us 'Kill
and squash them like slugs'.
My heart is broken by all the viciousness
I'm like a film burned through by exposure to light.
Clinkers of anger smoulder in my soul
and rods of iron lie stiffly in my tongue
and Happiness is manufactured in Hong-Kong.
We are the Unnameable, floating, adrift -
and every little bud contains a ticking bomb.
Entranced, we hurtle down and down and down
Feeling lighter as we fall into the high-speed lift
called 'globalisation'
("And those who think of happiness rising..." )
which elevates the triumph of despair from despair of triumph.
They're selling the sunlight
because they know that everything is product.
They're selling the moonlight
because they know that there is nothing
and no-one who is not exploitable.
And Archimedes fondles Marat in the bath.
And love hasn't much to do with an act:
true love is the suicide pact.
The world is aftermath.
And someone fondles Foucault in his pocket
utterly exalted by this exalted fact.
Every two weeks a language disappears.
And every two weeks there's an English suicide.
Happiness is: blotting out reality or consciousness.
And there are people who are paid to call you Sir.
And there are so many aeroplanes.
And there are so many crowded rooms.
So many crowded, see-through rooms.
So many crowded, official rooms.
And art is not just masturbation
but class-justification
and it "makes us human" - i.e. vicious.
Art is utterly pernicious -
so many art-filled rooms.
And someone has Kropotkin and Shestov in her handbag
utterly exalted by this exalted fact.
She lives in one of the peopled tombs
on Petrogradskaya in the squalid, short
half-lit communal hallway
between the kitchen and the toilet
that's always occupied for some sort of act.
And people from Kamchatka and Galway
come to visit, bringing sackfuls of port,
and all these animated corpses spend
the length of the wrecks of their lives together
comparing the same kind of wine.
Every day really is just like every other.
Until the end.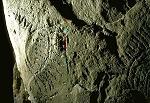 LETTER TO A 'WHITE' FROM A 'COLOURED' PERSON
by
Anonymous
This excellent and evidently popular poem is on dozens of web-sites
in slightly-differing forms and varying attributions.
Some say it emanates from Texas, others claim that it comes from Africa
('Skrifað af afrískum Shakespeare' as an Icelandic site puts it).
Yet others suggest Australia.
I suspect that it may have been written originally by a 'white' Australian.
On a German web-site its title is given as 'COLORED',
on an American site as 'WHO'S COLORED ?',
and on at least one site the first line is half in Swahili: 'Dear Mzungu'.
Most sites consider it humorous, rather than (as I do) a serious poem.


Dear White Fella,
Couple things you should know:
When I born, I Black.
When I grow up, I Black.,
When I go in sun, I Black.
When I cold, I Black.
When I scared, I Black.
When I sick, I Black.
And when I die, I still Black.
You white fella:
When you born, you Pink.
When you grow up, you White.
When you go in sun, you Red.
When you cold, you Blue.
When you scared, you Yellow.
When you bruised, you Rainbow.
When you sick, you Green.
When you die, you Grey.
And you have the gall
to call me COLOURED !
_____
The last lines are variously given as:
'So who you callin' colored ?'
'So who the hell you callin' colored ?'
'And you have the balls to call me 'colored' ?'
'And yet you have the cheek to call me coloured !'
and one version adds a final 'Huh!'

FROM TWO NUMBERS OF A TIBETAN BUDDHIST MAGAZINE, 1996
1.
We regret to inform readers of the declining
health of H.H. Kyabjé Khordong gTérchen Tulku
Chh'iméd Rig'dzin Rinpoche,
Ngakpa Rinpoche's Tsawa'i Lama.
He is in the advanced stages of diabetes
and has lost the sight of one eye.
He feels that it is not useful for him to live
much longer and has requested that people stop
practising his Long Life Prayer.
2.
After an operation in Paris, the sight of
H.H. Kyabjé Khordong gTérchen Tulku
Chh'iméd Rig'dzin Rinpoche
has been restored
and we are happy to announce
the improved health of His Holiness
and the renewed opportunity
to chant his Long Life Prayer.

from BIG STEPHEN
by
Brian Dodds
Newry, Northern Ireland


...Pigs
fattened by buckets
of spud peelings and meal
simmered to a lumpy pulp
in a Burco Boiler, rootling
soil in a small back garden,

sucked and grunted their way
to the hammer. Three strong men
to hold the rope, heavy death-head
swung high, flat face downward,
rape-screech, thump and crunch
as the skull implodes. Roll the shaft,

swing down the spike, sharp snap
as the bone breaks, mincemeat
eruption of brain, and slobbering mouth.
Big Stephen was an expert.
His cobbler's knife with concaved edge
slit the jugular -
and bright blood shot,

heart-muscle pumping uselessly,
voiding hot life on the concrete floor.
With boiling water from a big black pot
he'd scald the pink skin, cut-throat
razor scything off the bristles,
barbering the carcass clean and shiny.

When the men had heaved the pig
like a stiffened lynch-mob victim
up to a rusted wall-ring, with one rip
he'd slice it ribs to arse, spilling
slippery guts to a wooden tub,
and then blow up the bladder for his kids

to kick around among the scattering hens.
Thick blood drying on his fingers,
he'd pass around a Woodbine packet,
slip silver coins to sweating men,
hose down the yard as they enjoyed a smoke.


[spud = potato; Woodbine = a cheap brand of cigarette]


BUILDABLE LOTS
by
Lisa Beatman
Somerville, Massachusetts, USA

Three wormy apple-trees lean against the fence;
their nesting tenants gossip in the shade.
My yard is so big I mow only half,
the rest is tall grass and fireflies in June.
My hammock is strung in a corner
where I can't see the road
and the road can't see me...
That was last year. Now I'm elsewhere,
and there are three craters in that ground.
The apple trees and their inhabitants
have also gone.
Heavy machinery eats the fertile dirt
and money begins to grow.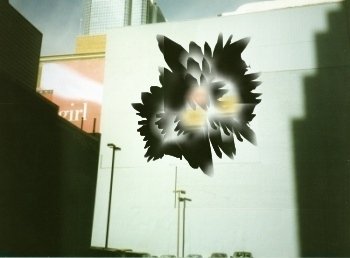 by
Suchoon Mo
Pueblo West, Colorado, USA

divine weather
naked under the sun
such a beautiful body
at the end of his tether
he wept and cried
why did you forsake me ?
why did you ?
why ?
they died together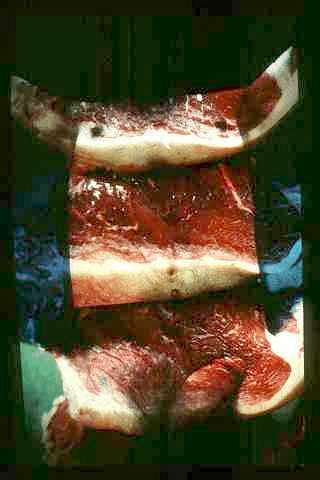 GREETINGS CARD
by
Michael Ceraolo
Ohio, USA
When you care,
but not enough
to compose something yourself...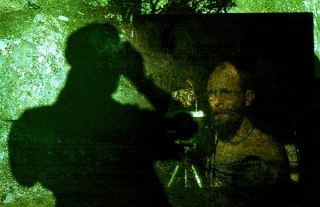 EASTER 2000 RAP (R.I.P)
by
Neo Diogenes
Manapouri, New Zealand

"He that has a gospel
To loose upon Mankind,
Though he serve it utterly
Body soul and mind,
Though he go to Calvary
Daily for its gain -
It is his Disciple
Shall make his labour vain."
- Rudyard Kipling
Hey, Mr Jesus
on your clever cross
Here's an Easter egg in vinegar
rolled all the way from Gaza to Laos.
Hey, Mr Know-All, you've sussed it by now -
that more evil will be done -
and terrible destruction of the Earth
- because of you and in your name
than was done before your
precious mystic birth.
I wonder if you realise,
Mr Anti-Family, honey,
that all religions exclude
and the most exclusive is
the religion of money.
The richer they are, the more
unreal their expectations, the angrier,
the more impatient, vindictive,
intolerant, nastier.
Hey, Mr Saviour
on your Roman cross,
you weren't set up by Judas
but by your disciples' Boss.
He wanted a Jew-Messiah
and so you have to die
to make a Greek Christ
triumphing in the sky,
and have all of what you said and did
turned into a world-sized lie.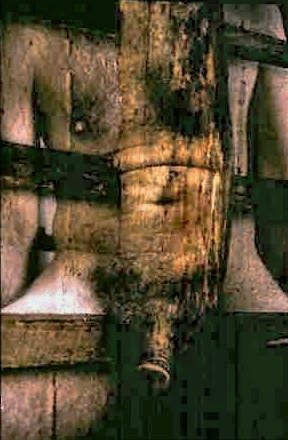 CLICK ON THE PICTURE TO DOWNLOAD GOD


ENJOYING SCHIZOPHRENIA
by
Rodney Cole
Birmingham, England

1. TODAY'S PLANS
Converse with the gods
Meet Christ in Crouch End, London
Be John the Baptist
Know the glut of the night fox
Observe death in the spaces
Discover HeavenOnEarth beneath one's fingernails
Divine the thoughts of others
Obtain a personal audience with His Holiness
Wag one's tail diskinetically


2. THE TREES
fly off into the outer dark
The planets
enthrone the worms
The wind
disposes of the ocean
The earth is vomiting
a tremendous
skeleton
A dragon
There it is, brontosaurian
Armies and civilisations
are squashed
The moon gapes
like a stranded jellyfish
There it goes
Lumbering
bumping and heaving
Away
Into the night
On and on
And I'm Sitting On Top

3. KILL
the television
mirror
self
from the 19th floor
headbutt the door
why me ?
best hide
now finished grubbing
out the days
a bloody pullover
in the sink
as the leaves were falling
Reality has many frequencies
by
Olaf Korjak
Gjirokastër, Albania



1. REFUSE TO SPEAK ENGLISH
The only freedom is difference.
The only integrity is dissent.
The greatest dissent is generosity.
Dëgjo me kujdes: gjuha shqipe
nuk është aq e vështirë.
2. THRENODY ?
The 'greatest' art is
many things to
many people
Which is to say
somehow meaningless
I mourn for
'great art'.


3. THE SMOKING BEAGLES
can't say that what you call your Soul
is Satan sanitized, and civilisation
is the bombing of a country by the USA
every minute, all day,
all night, every day for nine appalling years:
all Hell in tears.


4. BE GOOD, DO GOOD:
one does not imply the other.


5. I once knew a millionaire

with a marvellous prehistoric dolmen in his garden
who kept shit in his fridge.


6. EMIGRATION
It was once better to be hated
as an American
than as an Albanian.

REVLON REVISITED
Gavin Jones
Nantucket, Maryland
They say gin's a whore's drink.
A paint for the innards.
A crust of make-up.
A song for the neon dark.
She, shunned by Revlon,
licks the busted teeth of psychopaths.
They, hissing death and whiskey,
tear at her waxy knobs.
My, my my,
every night
their boiled bodies
roil in flight
jerking
like the severed legs of antelope
in jackal-dreams.
THE TERRIBLE GARDEN OF RECYCLED TIME
and ALL YOU NEED TO KNOW ABOUT AMERICA
Malcolm Walker
Seaforde, Northern Ireland
It puts all Heaven in a rage
to see a living creature in a cage.
Nature is almost at the end of its tether.
Religion is man's calamitous attempt
to gain control of weather.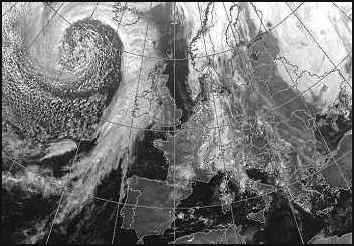 "Whoever controls the weather controls the world,"
a United States Department of Defense
spokesman said.
In the Book of Job we read
that God was schizophrenic,
hiding from his majesty
underneath his throne
inside his head.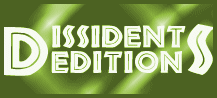 Haiku
by
Valerie Laws
Whitley Bay, UK


The moon is too big
too bright, too early, too round:
a shout in the sky.
and by
David Steele
Norfolk, England


Collecting cat-hairs
for its nest: the sparrow
with whiskers.

Across the valley
a tractor crawls all day
colouring a field.

and more Haikai by
Okami
Reedlake, Northern Ireland


Stormy winter night;
in between the isobars
last breaths of the old.
A winter morning:
the soap is crenellated
by the teeth of rats.
Snowflakes dancing down
on the men who are digging
another mass grave.
The summer dahlias...
The autumn chrysanthemums...
The world full of bombs.
Disliking people
I enjoy the cheerful caw-
cawing of the rooks.
Puma in the zoo-
bleak world of her cage - and Spring
is worse frustration...
Feeding my sadness-
there is no other meaning
to my existence.
Sixty-two years old!
Shall I now start going out
to dance with the moon ?
My rural dwelling:
anywhere I choose to piss
resplendent with plants.
A piss before bed
looking up at the night's bright
navel in the sky.
Every bedtime
I look forward to dying
even with my dog.
A snakeskin dangling
in a cobwebby window -
another poem.
Butchery-counter:
I am reminded of dying
red camellia flowers.
Relentless blue skies:
the smug sameness of
hundreds of haikai.
My mother: her grave
and the neglected churchyard
sprayed with Paraquat.
Fantastic offer -
Western Values:
two for the price of one.
Amphisbæna:
making love is not an act
- but an animal.
It is night beyond.
The fat, yellow-bellied moth
batters the window.


Sa vieille maison;
le loup-garou derrière
arrosant une Pensée.
*Orchids! The most liberating
admission: that you don't
really like sex.
*The name of these flowers derives from the Greek for 'testicle',
which their bulbs resemble. Similarly, the Mexican Nahuatl origin of the
word corrupted by the Spaniards to Avocado ('pear') meant 'scrotum'.

ON READING YET ANOTHER COLLECTION
OF HAIKU POEMS (2004)

Floods in October.
I don't ever want to read
another haiku.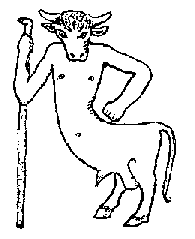 WRITE IN
with your comments
or contribution via the


feedback page