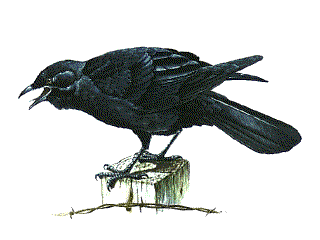 'Wherever you look, there is an end to your troubles. Do you see that precipice ? That way you can drop to freedom. Do you see that sea, that river, that well ? Liberty sits in their depths. Do you see that tree - stunted, blighted and barren ? Release hangs from its branches. Do you see your throat, your gullet, your heart ? They are all escape-routes from servitude. Are the exits I show you too difficult, requiring too much courage and strength ? Do you ask what is the straight road to freedom ? Any vein in your body.' - Seneca
THE GRATEFUL DEAD
Time is kind
to very few
until the end
when time is
infinitely generous.
XANADU
In that exotic land
coffee and pornography
arrived at the same time.
Coffee they called
American Tea.
Pornography they called
American Joy.

NINETY-EIGHT PERCENT
98% of our genes are shared with chimpanzees.
We have polluted 98% of the world.
Dogs are bored 98% of the time.
Nearly 98% of life is mechanical.
More than 98% of us are lost in the plot.
And parrots think,
and parrots mope.
O praise
the 98% of thinking animals with the integrity
not to pray or hope.
THE CLEVER ARE OFTEN SILLY
in memoriam Jorge Luis Borges
A virgin birth - like an
immaculate conception - is nonetheless
the result of some kind of rape
by someone who thinks he is
god or devil in some guise or shape
- perhaps of a wound.
So Christmas like every festival
is the celebration of lies or a lie
and joy is a leaf on the ground.

WARSHIPS AND WORSHIP
The mind
is both tool and tool-user.
Hope is both crime
and the mother of crime.
The infantile God is utterly discredited
by his First Commandment*.
300,000 oak-tree years
sank with one ship-of-the-line.

*After writing this poem I read Marina Warner's comment on the First Commandment:
«Now that I have returned to the Decalogue for the first time since childhood,
the voice of the deity strikes my ear as that of a petulant and charmless tyrant
who is covering up his own ineffectual promises with bluster,
the kind of humourless boss who is given to loud renditions of My Way
at the annual office party.»

WAKE
Philosophy's a corpse
continually washed and combed
wordblind, megalithic
I prise open its eyelids
to receive the light
of the dark dog-star.
That which is written is hollow:
illegibility
of knowing,
everything repeated
an hundredfold -
we climb in
but never climb out.

THE SECRET SOCIETY OF SUICIDES
Let us dress up
in hairy brown blankets
disguised as god's testicles,
bump into people, crush them

and crash into many-towered skyscrapers
of vanity
for
A POEM THAT IS NOT A VIPER
IS A BATTERY-TURKEY
for
beneath the mountains of bone
among the skeletons of trees
upon the sickly seas
of not understanding understanding
Progress is death's pseudonym
and
This Liberty you vaunt
is sold with terrible compulsions
This Peace that you manipulate
drips out of dreadful mutilations
This Civilisation that you serve
is wanton devastation
All your Heavens and Utopias of luxury
bleak and full of angry comfort
We are raped and raping
Hope is the crime and mother of crime
We are always on the way, and never arrive
Some infinites are very small
Happiness is an imaginary number
and a by-product
(with what evolutionary worth, I wonder ?)
LET US DRESS UP
in hairy black blankets
masquerading as god's testicles
and bump into people and crush them

and crash into many-towered skyscrapers
of vanity
for
destruction
was the birth of civilisation
and in destruction of destruction
it slowly dies, ever more demanding
The only true achievement
is renunciation
and not understanding
is also understanding

FOR LULJETA LLESHANAKU

The only true reward's Oblivion -
'Spirituality' is just sexual mysticism
for the poor in spontaneity and spirit,
the cruelly-effete
who suck out each other's tiny, naked truth
and dress it in deceit.

WHILE THE DOG'S CLAWS SCRATCH UPON THE HERMIT'S DOOR
11-11-2003
All power is abuse of what is not itself
and all power is abused.
At the cenotaphs
the holders and the representatives of power,
the generals, the admirals, the air-vice-marshals
pretend to mourn
the powerless that their predecessors murdered
by proxy as dictators also do
through words like Glory and Defence
and Fatherland and Honour
and Democracy
and Western Way-of-life - which we've now reduced to lifestyle.
Masters of claptrap, they call
mass-murder sacrifice
but horses are the inevitably-unsung heroes
the unremembered victims
before replacement by the tank
and the Holy Grail is in the basement of a bank.

MAYBE THE MAGGOTS
Heads full of dreams
too many heads
only one dream
in the world now poised between
Hell and Hollywood
genocide and overpopulation
words and politics and war
there is no memory
only expectation

for what begins with power ends in mysticism.

We are the devil of our creation
and only the maggots
can grant us salvation.

ELEGY FOR THE LAST WHITE RHINOCEROS
which, having thrived for 15 million years was wiped out in two generations
Everything human is arrogant
even our suffering
We are judged before the trees
the disappointed trees
the days of death
To be hard of heart and soft of soul
is not so difficult, but a rare achievement:
soft for trees, hard to people
and their sham democracies of greed and selfishness:
words are their winding-sheets,
their minds are mummy-cloths
wrapping their heads with windings of normality
normal hate and platitudes
and platitudes of hate
and platitudes concealing hate
clamouring at the gate
of undying semifinality
Love is no more true than pleasure
Sex is just as infantile as politics
a bleak parade along an encrusted
existential shelf
The only right's the right
to kill oneself.

EVOLUTIONARY THOUGHTS
The animal that lives in the kidney
of the octopus
was once more complex.
We have fewer genes than rice,
and we are outraged when chimpanzees
attack our children while we cut down
their forests.
Because we invented words
we are slaves of language;
and we are willing slaves of number
in the bright abattoirs of slumber.

HURT METEORS
Hurt meteors
hurtle together
briefly brilliant
with intense integrity

RELIGION: FILE UNDER [1] PORNOGRAPHY [2] BLACK HUMOUR
Let weddings be marked by funeral rites
and divorces celebrated by banquets jointly created by both divorcees
and let parents be for 10 years renewable like passports
and let tocsins be tolled at every birth
and let all students write out a hundred times that truth
is the tightrope between a true sense of self
and a full awareness of one's own not inconsiderable
contribution to the wasting of the earth.

A HISTORY OF WAR
Spit in the soup
Ejaculate over the meat
Piss into the wine
Weep into the dessert
Vomit on the table
Bleed into the dirty straw.

NAMES AND NUMBERS GAMES
A man who kills five people
is called a psychopath, a serial killer
A man who kills ten people and himself
is called a terrorist
A man who has a hundred people killed
is called an entrepreneur
A man who has a thousand people killed
is called a politician
A man who has ten thousand people killed
is called a Minister of Justice
A man who kills a hundred thousand animals
is just doing his job.

A BRIEF REFLECTION ON DEATH AND CHRISTMAS
How do I know I'm not dead
when I am surrounded
by beings who have nothing but other beings'
programs in their heads
and rusty old drives
and don't seem really to have entered
the world they are wrecking ?
Only those who refuse to have anything
to do with Christmas are
in control of their lives.

SEROTONIN
Where are the feelwords
to stop the depravity
the destruction
of the stuttering world
'transfounded by nothingness' ?
Our nullity
made up of senseless, insensible words...
(I am private coagula
always detachable)
(I am trying to wash my thesaurian heart with my words)
(the meanings
mean nothing)
(the only harmless thing I can do is to die...)
Shit is the colour of Paradise !
Planting small trees on the fine
half-sunk sewage-barge of my consciousness,
how I (private coagula
always detachable)
love the swirling wet leaves of October !
How I love my lostness in good wine !
That light which is dancing on water
like a sad toothless bear before the only god
(of nothing but crimes) is desperate not to drown
and be a victim of the moon and tides...
(Inside the light is where the shadow hides...)

1% of what was beautiful remains
and 1% of us enjoy it for a little of our time
thinking this is all there ever was or could have been...

Death is just the end of self-deception.
Miroslav Holub's dog knows that
we are no more than the rocks that we smash
(and each of us was once a single cell...)
So - planting these trees on the fine
wrecked sewage-barge of my consciousness,
how I love the the dark ground
and the clinging wet leaves of December !
Oh, Serotonin! How I love being found
and transfounded
by dhrupad and food and good wine !

CHARON
"The living wash in vain." - Samuel Beckett
I (a nation of one)
smile at the sad passports
(they are all false),
the suspicious stains,
(the curious and terrible genitals)
the litter-strewn mud,
(the bear's pancreas)
the smiling blood,
the baboon's head screaming from a bullock's shoulders,
dead dogs, dead bluebottles, dead viruses, dead causes
(dead animals who thought they were not animals).
Only the dead know better.
Only the slime is demure.
Only the night is young - so briefly.
(Not even bereavement is pure.)

CAPITALISM: MAKING THE CREEPY GLORIOUS
"Suicide's the only human altruism."
Because we invented reason we think we are rational.
Because we can wipe out so many life-forms
by mere wilderness of mind we assume we are superior.
Because we invented the future we imagine we have immortal souls.
Because we are the only lying and treacherous species
we invented loyalty
and love, suspension of disbelief.
Because we are terrified of our reason
we invented mathematics and games, stories, poetry and hope
and perfectibility and torture
and terrible, mindless, industrial slaughter.

ARMAGEDDON, AFTER ALL, IS A FAIRLY SMALL HILL
Just an ordinary day: ordinary people
work and do other usual things
in the landscape of screams.
The cleaners, the clergy,
child prostitutes, bookbinders, loss-adjusters,
judges...the rapists, the teachers,
mechanics, chiropodists, vivisectionists,
politicans, the police, the swindlers,
the imams, the accountants, the advertising-agency janitors,
the slaughterers of battery-chickens,
loblolly-men,
spies and shit-shifters, computer-programmers,
together (with many more) compose
the landscape of screams
as a jigsaw of horrible fragments of false dreams.
And why would the creator not despise us
as we despise dogs
our very own unnatural selection ?

REAL MEN
don't shave Real men
rarely wash Real men
don't have wives, jobs or religion
Real men kiss and kill their own meat
Real men never pray
or lock their houses Real men
don't have houses Real men
cook real well
Real men like muck
Real men don't fuck

WHO GATHERS KNOWLEDGE
GATHERS PAIN (Book of Ecclesiastes)
The twist, the torque in our brains
that caused language
caused badness and sadness and madness
unique among beasts.
Take away the words (and much of the pain goes)
We are almost only words.
Too many words in the world (and not enough truth)
The busyness and the acquisitive words (remembering...dismembering)

What can I say about words
whose naked emperor is solitude ?
No gods, no magic helpers (and words are only work)
Why do we prefer stories to insight ?
Poetry (like all forms of art)
should challenge us,
not send our collaborating
half-dead consciences to sleep.
We (locked in the palace of jam)
are drowning in anecdote.
Every attitude is sham.

Religion (just the mirror of arrogance)
Philosophy (fake analysis of arrogance)
Knowledge (mere myth)
(wisdom is silence)
Thought (only words endlessly permutating
spawning their busyness)
Because we invented reason we think we are rational.
Madness is the price we pay for language.
What the planet pays we won't own up to.
Can we not reduce the words that pass for awareness
(that tell us we are swimming in our sinking) ?
Reduce them to very small poems (less smug than haiku)
Or just to breathings
Or just to looks ?
Let there be no more words !
Let there be no more books !

HOW TO BE NOBODY IN AN AGE OF CELEBRITY
for Suchoon Mo
I met a man who claimed
to like my poetry.
I lack the guts
to tear it up.

DAY
(To my Doctor - and my Dog.)

I spend each day
recovering from the dread
disappointment of waking up
from addled sleep.
At night, exhausted
I creep back to bed.
Along with Schrödinger's cat
I am a hole
inside a hole
staring out at a fog.
O to have the brilliant
connectedness of a dog!

LE STYLE - C'EST L'HOMME
Poetry after Auschwitz can only be barbaric. - Theodor Adorno

Conclusion escapes me
slinking away like someone who witnessed
a Mafia murder
in the chloroformed world
and ending up nowhere:
the mined no-man's-land of ideas
where lights swallow the moon
like Viagra.
My shadow: a one-dimensional
even-more-substanceless me
a peninsula
not of regret
but of grief.
Freedom is meaningless
when you're dead
because you are freer
than freedom.

SERMON ON THE MOUND OF GARBAGE
(after Suchoon Mo)
Dearly-beloved!
Ye who are seekers after truth
Hasten unto the internet and the library
Ye who are seeking reality
Put on sunglasses
And ye who seek nothing -
The kingdom shall come
Like another turd
And those who know
And care can go
And spread the word.

ONE MAN AND HIS DOG
(after and for Suchoon Mo)
A man digs
and a dog.
The dog is burying a bone.
The man is digging his grave.
The dog is happy.
The man is not.
The dog is shot.

ASPERGER MEETS ALZHEIMER
Every army is edible -
just fry or boil or bake.
In the Bar des Abattoirs
we talk about Fast Food
and churches, the mindless
wondrousness and relentless
logical absurdity of nature,
and pubic-genital tattoos.
I, le chien manqué, never lie
and never lock my house.
Nearing my demise,
the dirty emptiness of life behind me,
the pure nothingness of death in front,
the inexpensive Bar des Abattoirs
is my chosen nursing-home.
I don't know what age
I am, am of -
I share nothing with women or men
and dislike cities, loathe pubs.
Thinking of death and the error
of being human, I am the bearer
of unwelcome wisdom,
an angry ghost among the shrubs.
God's name is Frankenstein.
We are his monsters.

ANHEDONIA
We are so ugly
that we ruin the world
in our own image.
How can I put up with optimism ?

PITY OUR INTELLIGENCE
brain
worn down like soap
by rain
of thoughts -

how to cope
with the next pain
of thinking -

inquisition and chains
of consciousness -

good can only be stillborn
can only be still
only be still
only be -
be only
don't do
but live between thoughts
and die within the universal pain -
there is no such thing as nothing

in memory of a holy
GUIDE-DOG FOR THE OVER-CONSCIOUS
('He was only a god.')

Among vast galaxies of flaming suns
one small...great...god is dead
We two are falling though the terrifying
emptiness of Space
of loss
which is the only poetry.
Joy is shallow,
Sadness is profound
And love a tiny hollow
In the trampled ground.
Living the sadness,
the sad banality of suffering,
our last sad pleasure is the countdown to death:
This is the last delicious salad, the last dessert,
the last book, the last sleep, the last breakfast,
the last radio programme, the last shit, and now the last ride
in a car for the final
finest sharing act of suicide.



DOWNLOAD THESE POEMS AS A PRINTABLE pdf FILE