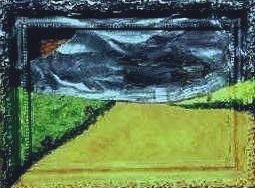 'SEUL LE SILENCE EST GRAND;
TOUT LE RESTE EST FAIBLESSE' - Alfred de Vigny
Much preferring
music to meat
I live mostly in well-fed silence.
(Le silence est bon: tout le reste est détresse.)

SOUL IS WHAT YOU CALL MY PAIN
Humans are almost everywhere.
Most other animals and criminals
are very rare.
Mice are very brave.

CLONTYGORA
'The King's Ring', South Armagh
Homage to Mateja Matevski
The forests have shrunk back to the forest
holed up with the howl
of the last wolf -
the sound of time dying.
The seas have drained back to Sargasso
soup-thick with their dead:
the stench of time threshing.
And some of the old stones dragged and stood up
at the flinty beginning of hatred
by the river that once was
still stand, only half-wrecked,
their fissures expressionless.

DATE WITH DEATH
with acknowledgment to Gazjon Kotoni
Tonight I'm going on a date.
We are meeting up at eight.
A drink, and then I'll walk her home -
I won't keep her out too late.

TELEVISION
It's not that images are powerful
but that consciousness -
already cursed by narrative - is weak:
everybody watches, mimics.
No-one sees.
We are all distorted
unreadable reflections of each other.

In this globalisation
hypocrisy like prurience
is a vast equaliser
making us all moral latrines
horribly disguised as clinics.

THE LAST OASIS
Let's all bow down again and worship
The Great Satan
the Satan of competitiveness and sentimentality
the Satan of property and celebrity
the Satan of morality and electricity
the greedy Satan
who certainly would not dream of offering
even the King of Kings
even the smallest kingdom or republic of this world
because He is making this world
His desert kingdom
and His arsehole the only oasis.

FEELING TERRIBLE
After ejaculation:
the rapid re-uptake of a
minimal release of Serotonin.

ANTI-POEM: WORK IN PROGRESS
Obviously, song came before speech
and moans came before song.
Whales sing refrains and antiphons,
compose sonatas.
Darwin thought that certain fish designed their own eyes;
researchers report that the planet's remaining fish not only
like but can also recognise
the less-commercial kinds of human music.
[Perhaps a line here ending with 'status' ...]
[Perhaps a line here ending with 'God' ...]
I both fear and pity people who think they are better than cod.

ZION IS THE WILDERNESS
I am a witness for the Angel of Calamity
Here in the rain and the sunshine
constantly fighting the walls
I am choked by the dust
surrounded by rubble
rich rubble of comfort
and dust of expensive ideas.
We screw the planet to get rich
And all we do is victimise and bitch...
Uprooted
I see no roots
only grubs
and greenness and earth
and the sky blue and grey
and Cerberus howling from transplanted jackal-heads
and Charon taken hostage in a nuclear submarine
and the primroses on my mother's grave
sprayed with the churchwarden's weedkiller.
I curse the grub eating the world
that will never be other than grub;
I curse the numbsickness spores
of Normality
down in the dry well
of the tower of the world's tomb.

And the Dog's tail wags in the grim grey gloom.

ESTRANHA FORMA DE VIDA
THE PEACOCK AND THE CORPSE
the only illogical
creature thought
that it invented
logic
continually congratulating itself
in its terrible hotel
sleeping and scratching
amongst reflections in distorting
dirty mirrors

the intimacy of sex is as nothing
compared with the privacy of orgasm
(though the two are usually confused)
- is as imaginary
as the truth of emotion.

KNOWLEDGE COMES IN BOTTLES,
WISDOM IN A BROKEN CUP
This is the story
Of Good and Evil:
Man is God
and Life's the Devil.

FROM THE NON-PRESIDENT OF THE NON-SOCIETY
FOR THE RIGHT OF BABIES NOT TO BE
The only problems are human - and
the human problem is not so much
the problem of consciousness
(which, attempting to erase
its own intrinsic misery,
makes criminals of us all
through work and sex and history,
language, story, family
and the illusion of achievement)
- but the problem of scale.
Among so many billion toxic fogs
of consciousness I have been slowly suffocating.
Honest witness is beyond-the-Pale.
Truth is written only in dust
and spoken only by dogs.
The paradigm of all desire
is lust.
*

I have consulted Harmal and the Prophets' Sage,
the Visionary Mushroom, Nipple-Cap and LSD
- and all have told me Reason is the only means
of knowing about reality
and unreality.
It hurts - but only a fragment of what hurts
is due to reason.
*
All skins and no centre,
we self-modifying master-onions strip
the skins from everything except ourselves,
and in the Limbo between beast
and hallucination
we have no faces
just screens of desire and terrible ties
no souls
just tissues of lies.
We are no more alive
than the machines that are our only progress.
What people call
'the miracle of life' is really the
unnecessary evil of existence.

The worst thing:
to have been born.
The best thing:
to die alone
no more forlorn
but witness for the Angel of Calamity.
Artifice and ruin,
structures of deceit and self-deception...
As I sit in my beautiful, neighbourless garden
regretting my conception
I'm trying to write new poetry,
learning slowly to be nobody,
hoping to be nothing
but witness for the Angel of Calamity...

THE SUCCESSFUL ARE ONLY SUCCESSFUL AT
BEING SUCCESSFUL
CITIES ARE THE CANCERS OF THE WORLD
Listen to the whispers
that wriggle through our cars.
Watch the shifty shadows
telling us of wars.
Adam was a golem
Emotions are the devil
Money is the axle
of the juggernaut of evil.

CHALLENGING EMILY DICKINSON
1. "Because I would not stop for Death
Death kindly stopped for me..."
Nature's red in tooth and claw
But we are black of heart.
There's more "soul" in a jackal's paw
than all our works of art.
So I will kindly stop for Death
and do the gracious thing.
And with the gift of my last breath
transform to sweet
nothing.

2. GOODNESS ALSO CAUSES PAIN
I have eased three lives from aching -
who can stop a heart from breaking ?
Each day is taking and forsaking -
night restores bleak strength again -
bread and wine are earth's unmaking -
everything we do is vain.

REMEMBERING EDITH PIAF

Raped into life, regretting
every day I've lived - do I regret
the way I've lived ? Always apart, aghast
and gullible, longing for a past
I never had, hoping that, somehow, I might wake
up one morning not regretting that I awoke,
that, somehow, peace of mind might dawn,
I now think living peace will come
only through dementia or lobotomy.
Fathers are criminals
foisting yet more suffering upon a planet
which is a miracle of pain.
To be born is to be defeated. So I dream:
"Here is the pill of happiness.
Here is the pill of death. Choose one."
Only the wise will choose the latter
knowing that soma-happiness will degenerate
most likely into geriatric helplessness.
But wisdom is the life of animals -
that caged bear, for example, which cannot even squirm,
or move while suffering
unimaginable agony as her joyless gaolers
extract her gall, day in, day out, like rubber from a tree.
For us it only manifests itself in death
dispensed by us so drivenly.
A pity beyond all telling is hid
in every egg and sperm.

THE SAD TRUTH
We are truly ourselves
in not being ourselves.

IT IS IMPOSSIBLE TO PEDDLE TRUTH
Evil also lurks inside the innocence
we cunningly invent in this meaningless
and insignificant mistake of universe -
within whose labyrinths of tragedy,
mean victories and disappointments,
machines talk only to machines.
To search for truth and holiness
among the artefacts and institutions that replace us
- as for a soul in the slaughterhouse of mind -
is quite ridiculous - yet to do otherwise
is the blasphemy of millions - is to agree
with the devils that we are gods.
Better to be ridiculous than blasphemous.
The people that I most respect are trees.

DEATH IS WHAT THE DAWN IS CALLED
(Memory is the mask of ignorance).
Perfection (it seems to me)
is the single-cell creature.
(So far have we fallen from Grace!)
The rest is just Nature doodling compulsively
to fill in time.

SAVIOURS NEVER COME IN THREES,
NEVER COME AT ALL
It is difficult: despising the arrogant
without being arrogant oneself -
the conundrum of humility (about which
only the rich or ambitious talk), or, at least,
the conundrum of humility without resentment:
the happy wisdom.
It is easier to despise the rich, the powerful,
the USA, slaves of consumption or religion or 'democracy',
and all the other poor-in-spirit.
According to one deep philosophy, "The least of creatures..."
(such as an amœba or a cancered cell) "...contains the Universe."
But we whose consciousness is blasphemy
reduce the universe by arrogance
to something worse than nothing.
Thus the only possible poetry is praise and sorrow for all
that we devalue (written with disappearing ink); the few with poetry
truly in their hearts are mute. The world is full
of silently-screaming tabernacles.
Our world is a bewildering film in which the world
is trapped. Who can honestly believe in miracles ?

THE SCHEME OF THINGS
for Dalan Lusaj
Cracked are the mirrors of my belonging
Streaked with tears the windows of my seeing
Broken the pavements of my being:
Cracks are the scheme of things.

MORONIC, TESTOSTERONIC
The Prime Minister who talked
of locking up London's beggars
played at liberating Iraq:
now
at least ten thousand beyond beggary
and unable to escape
and a hundred thousand dead.

FLYING OVER EUROPE
Above us the blue.
Beneath us an old, old map.
I cannot see the borders or the armies
only rivers and forests.
The machine we are in
(eating sandwiches which taste of Treblinka and Gulag)
wipes through the mildew
wipes through the blight
of history. Those millions
of terrible events might not have happened.
But they are still happening now
out of sight, day and night.
Good news is something misreported.

ON THE OWNERSHIP OF RAINBOWS
The almost-full moon is almost
motionless in the sky
while jerking like a puppet in the sea.
And always, anywhere,
anyone could be
anyone, was anyone
is nobody;
and the monstrous somebodies are now
everywhere
murderously claiming and disputing
ownership of mountains,
deserts, oceans and the air.

DAILY SUICIDE
after the Albanian of Bardhyl Londo (1948- )
We kill ourselves every day
At grubby tables in the café
At the polluted racks of newspapers
In corrupt circles and sordid intrigues
We slowly kill ourselves
And of course we don't realise it.
Eventually the moment comes:
to take out the revolver -
but you can't pull the trigger
because you are already
a long time dead,
and it is well known that
the dead can't kill themselves.
THE IDEA OF HEAVEN
The idea of Heaven is nice for children.
The concept and system of Private Property
was brought north of the Alps by the Romans.
Cuddles cannot help me forget
or cope with consciousness.

ALPHABETICAL
A is for atom, which has many parts.
B is for bomb, so dear to men's hearts.
C is for cock, what you do to a rifle.
D is for doom, which is only a trifle.
E is for end which we're all of us living.
F is for future - it's quite unforgiving.
G is for Google, search-engine of choice.
H is for hoodlums, who once were sweet boys.
I is for me who should not be here
J is for Jihad against all things queer.
K is for Kali in Heaven Above.
L is for Limbo the circle of love.
M is for monster - what Man has become.
N is for nation and nasty and numb.
O is for ogle - what I do to dogs.
P is for progress that's lost in the cogs.
Q is for quiet: the peace of the dead.
R is for raucous: the thoughts in my head.
S is for steel destroying the world.
T is for triumph with banners unfurled.
U is for umbrage, so easily taken.
V is for virtue by value forsaken.
W doesn't scan - I'll move to X
which is for excellence, lurking in wrecks.
Y is for yours, from terrible mines.
Z is for zillion - far less than Man's crimes...

ERECH/URUK, IRAQ
We're told that writing was invented here:
lists of weapons, foodstuffs, kings, kinsmen,
laws and penalties.
Here lived the first Man-God, Gilgamesh.
Here children beg for ballpoint pens.
Here there is no fence around the ruins,
no turnstile, booklet, shop or guide.
Here there are no tourists, toilets, postcards
or Keep Off notices.
Here is the first city.
Here urban evil started
to gyre its tentacles across a world
which now it strangles.
Here was the New York and Washington
of seven thousand years ago -

the best of man is his ruins.
Not far away is Hamurabbi's Babylon
whose ruins were so recently reconquered
by American Marines,
and turned into a huge base
with helipad and roads wide enough
for trucks, the shards of pottery
and threshing-floors
covered with hardcore and gravel
dug up from elsewhere.

The best of man is his ruins.


MAGNETIC
a refrigerator poem composed from a kit
which does not have capital letters or punctuation
never sacred liquid naked as fresh worship
could touch cup kiss flame or cover hand
and long for gift of love & light
for air
fire
god
dark voices drink from blood-whispers
soak almost
then burn slow
and die devoured by nectar
I too blush in sweeter hunger
am eye
aroma
ocean
candle
dinner
sod
some lovely river singing once
where any lip must beg for secret skin
every deep dark glistening moon
thus trust & tantalize
my ear like hairy wine before
pale wild morning blows
perfumed self not soul
for I would always taste time missed withal
my mind a broken soft explorer
haunts this live red star of ache
clutches the bitter torrent of
some surrounding universe

HAIKU
A teeming ant's nest -
mind, examining itself,
finds only matter.

A CHOCOLATE FIRE-GUARD
Art is not concerned with Understanding
but with its concealment
beyond the cold reality of our behaviour
void of understanding until death.
Every morning I wake up to words.
If only words would let us leave their sweet, corrupting prison
where the living bury and eat the living, and no-one dies,
we might emerge from deep behind the walls
truer than all or any of the poems in the world
beyond parade and panoply of wanton wonders.
Our destiny is not our destination.
From birth apart,
hooting bleakly through the fog
that drapes a world of fraudulence,
the true poet writes only for his unwitting dog
because he knows he has no audience.

BEING MODERN
I have no nationality
but not-being
and not being without.

BEING HUMAN
The kite is freer, bolder
than I am, even when held on its string,
and (like everyone) I am always
just a string-holder.

TO MY MOTHER
What I miss is not you but the mostly
closed-off paths of mutual communication by which
some spirit might have succoured us...
If you are anywhere now
you are everywhere - but you are only in my head:
a few frames of film revised
and jammed in the gate of a consciousness
which will itself so soon be dead.
Eternal love is love mutually unrealised.

SIGNS AND SYMBOLS
[In 1916, at a low point in the middle of the First World War (The Battle of the Somme), a 'terrorist treason' was perpetrated in the Second City of the British Empire: a handful of well-armed fanatics occupied the General Post Office in the centre of Dublin as part of a general insurrection which did not materialise. The leaders were executed. Ireland's national poet, W.B. Yeats, later wrote an elegy to this 'terrorist outrage', called Easter 1916, which included the famous - and meretricious - lines:
"All changed, changed utterly.
A terrible beauty is born."
- raising the important questions: How can beauty be terrible or terror be beautiful ?
As a result of the Easter Rising, and independence (and a civil war) 5 years later, nothing much changed for the Irish poor for almost 50 years, except increased abuse by the (essentially English middle-class though self-servingly anti-British) Catholic Church in the vacuum of authority that the English had left.]

The twin verticals on the Dollar-$ymbol
borrowed from coinage of the Spanish Empire
represent the Pillars of Hercules,
now called Gibraltar (a tiny British part of Spain)
and Ceuta (a tiny Spanish part of Morocco), west
of which only heroes could sail
to the eternal bowers
of the Isles of the Blest.
But O, those Davidian heroes!
Those Goliathic towers!