Standing in front of the smile
on the face of a boiled pig's head
- you be as generous !
- Ko Un
---

The powerful are ever more lonely.
---

All the time I am praying to the Buddha
I keep on killing mosquitoes.
- Issa
---

Insects on a bough
Floating downriver,
Still singing.
- Issa
---

Zen:
Seeing into one's own nature.
- Hui-neng
---

We are here and it is now.
Further than that, all human knowledge is moonshine.
- H. L. Mencken
---

Being is what it is.
- J-P Sartre
---

To see what is in front of one's nose needs constant struggle.
- George Orwell
---

Break the legs of what I want to happen.
Humiliate my desire.
Eat me like chocolate.
It is spring and finally I have no will.
- Jalaluddin Rumi
---

We fire clay into a pot,
but it is the emptiness inside that holds what we want.
- Lao Tzu
---

Those who think they're sane are merely arrogant.
---

Death is the sum of what it steals from us.
- from the film "Tous les Matins du Monde"
---

It is there, right where you are;
If you seek it, obviously you do not see it.
- Muso Kokushi
---

So little time - so little to do.
- Oscar Levant
---

Calm in quietude is not real calm;
when you can be calm in the midst of activity,
this is the true state.
Happiness in comfort is not real happiness;
when you can be happy in the midst of hardship,
then you realise your true potential.
- Huanchu Daoren
---

To ask the hard question is simple.
- W. H. Auden
---

There is no beginning to practice nor end to enlightenment;
There is no beginning to enlightenment nor end to practice.
- Dogen
---

If you really desire peace, be ready to sweat blood.
- Hakuin
---

The human soul's as deep as emptiness.
---
we're lost where the mind can't find us utterly lost
- Ikkyû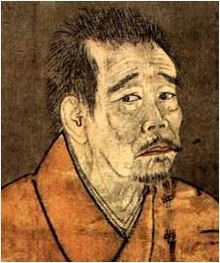 After Ikkyû
Anthony Weir

Cirrus caressing the sky.
Old man ejaculates alone.
Life by numbers.
Long life.
Sequoias too.
torpid
now nearly eighty
I offer my little hard turds to the Buddha
Avoiding shame.
What I say
and what I think
are (I think I hope I think)
the same.
Flowers are silent
Silence is silent
My mind is a noisy flower with the corpses of insect-thoughts sticking to it
Half-dissolved gravestones
can, if you're desperate, be used for grinding coffee.
The painful path is beautiful
and leads to beautiful painless nothing
Memory is a bramble-patch
scratching your every thought
and producing drupelet-scabs
Value-laden words
Dirt too is beautiful
and the swirly spiral flush of turds
Blind donkey stumbles over stones into walls and ditches
Pain, no words, no hope
Covid-19
just a drop in the ocean a neutral
drop in the bitter
ocean a tiny drop in
the viral sea
Wholesome
dog-shit can teach you more
than the writings of the holy wholly unholy
fakers of wisdom
I have never seen my brain
constant life constant death
wearisome
the moon is so attractive
plagiarism
is just another kind of inspiration
---
---

ANONYMOUS ZEN SAYINGS

If you do not get it from yourself, Where will you go for it ?
---

If you try to aim for it, you are turning away from it.
Zen

Zen