Don't be taken in -

FLIM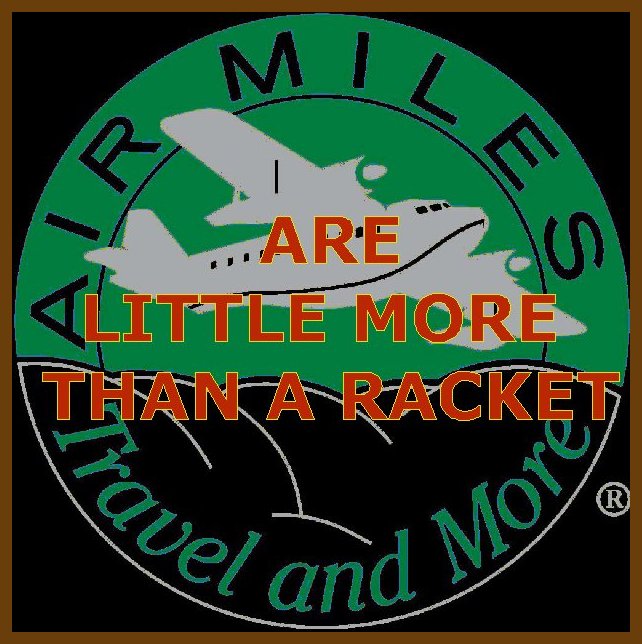 FLAM

No one-way flights.

If you live in the British Isles
you will find that there are:-
Very few flights from provincial airports.

Too bad if you live in Orkney, Shetland,
Northern Scotland, the Isle of Man or the Channel Islands.

If you live in Northern Ireland, certain under-subscribed
FlyBe flights from Belfast City airport are offered -
but for most of these you cannot use your Airmiles:
you have to pay cash - the same price that you would pay
by going to Flybe's own website !
Some Aer Lingus flights from Belfast International are offered
- again, only for cash!

No flights from starting from foreign airports
including Dublin are permitted.
Airmiles advertise their dubious offers illegally when they do not
admit that flights from Northern Ireland are not generally available,
while those from the Irish Republic are beyond the Pale.

Do not be inveigled into applying for a credit card which entices you with 1,500 'free' Airmiles.
Lloyds-TSB offer an American Express/Mastercard 'Duo'
but don't tell you that American Express is accepted only by very big retailers.
You will receive a VOUCHER
which is virtually unredeemable,
unless you have several thousand AirMiles
or several hundreds of £ or €
to add to them. For example:
a hotel in Edinburgh for one person for one night can cost around 3,000 airmiles.
Hotel choice is limited,
especially at the lower end

...and you could spend an hour
clicking back and forth on the retina-ruining website
only to find that you cannot get a flight you want
or a reasonably-priced hotel.
'Airmiles' is owned by British Airways -
the company of price-fixing, competition-prevention, cartels, £20,000 seats, and enormous profits.
The 'Airmiles' flim-flam is so profitable that British Airways also have their own 'loyalty' racket.
Air miles have variable value. One air-mile can be worth as little as £0.06 !
Are they worth collecting ?

Compare low-cost flexibility on
EasyJet, Ryanair, Jet2, Aer Lingus, FlyBe, etc. and get real value for money.

click here for an analysis of Airmiles Offers in Canada >